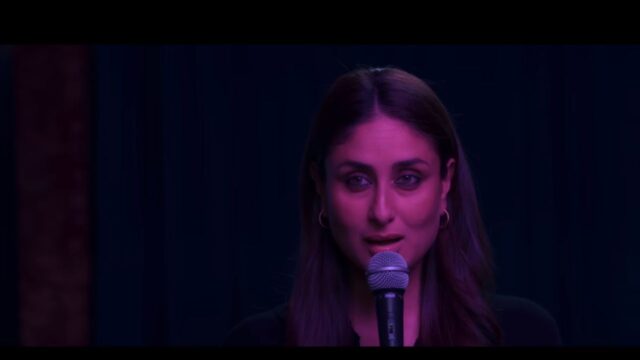 When Sujoy Ghosh announced the title of his new film about a month ago, I couldn't help but feel a sense of disappointment. Another Netflix India thriller with a title borrowed from an iconic Hindi film song? I remember quietly grumbling to myself, thinking that this was taking formulaic thinking to an almost comical extreme.
Titles like "Raat Akeli Hai," "Haseen Dillruba," "Yeh Kaali Kaali Ankhein," and "Monica, O My Darling" are already streaming on the platform, and now we have "Jaane Jaan." This seemed like a case of déjà vu, especially considering that, like last year's "Monica," this film is also an adaptation of a book by Japanese mystery writer Keigo Higashino. Admittedly, "The Devotion of Suspect X" doesn't translate directly into a great Hindi title, but the seeming lack of effort in choosing a distinct title was quite surprising to me—until I finally watched the film.
Read More: The Continental John Wick Prequel Review
As it turns out, there's a surprising connection between Sujoy Ghosh's new film and the original song it's named after. The song in question, 'Aa Jaan-E-Jaan,' was a rare cabaret number by Lata Mangeshkar featured in the 1969 thriller 'Intaqam.' It was famously picturized on the iconic Helen. Interestingly, in Ghosh's film, the central character Maya D'Souza, played by Kareena Kapoor Khan, is a former nightclub dancer who has left her past behind. The teasing and somewhat fatalistic lyrics penned by Rajendra Krishan in 'Aa Jaan-E-Jaan' seem to resonate well with Maya's current predicament and the two men who become entangled in her life.
There's a notable moment in the film where we see Maya singing the song at a karaoke, with Kapoor Khan beautifully framed against visuals of Helen in her glamorous attire on a telescreen. It's a cross-generational connection that began with the 'Yeh Mera Dil' number in 'Don' (2006).
Jaane Jaan (Hindi)
Director: Sujoy Ghosh
Cast: Naisha Khanna, Karma Takapa, Saurabh Sachdeva, Vijay Varma, Jaideep Ahlawat, and Kareena Kapoor Khan

Run-time: 139 minutes
Storyline: With the assistance of a devoted math teacher who lives next door, a single mother tries to avoid being charged with murder.

Maya, formerly known as Soniya, was married to Ajit (played by Saurabh Sachdeva), a cruel and money-driven police officer. Fourteen years ago, she made a courageous decision to leave him and started a new life in Kalimpong, a picturesque hill station in northern West Bengal. Her sole focus since then has been on raising her daughter while making a living by running a small café that serves coffee and Chinese cuisine.
Read Also: Reaperscans Alternatives
One day, out of the blue, Ajit unexpectedly shows up at Maya's café, and in his anger, he forces his way into her home. What begins as invasive threats to both Maya and her daughter quickly escalates into a chaotic and violent struggle. Before the suspenseful soundtrack even has a chance to settle, Ajit meets a grim end, found lifeless on the floor, strangled by the cord of an immersion water heater—a grim reminder of the harsh realities of life in Himalayan towns.
Just as Sujoy Ghosh's best film, "Kahaani" (2012), was elevated by not only Vidya Balan but also the exceptional performances of actors like Nawazuddin Siddiqui and Saswata Chatterjee, "Jaane Jaan" draws its strength from two remarkable performers who bring distinctly diverse energies to the screen.
Maya, portrayed as a distressed woman with no prior criminal experience, now finds herself in the daunting task of figuring out her next steps. Fortunately, her salvation arrives in the form of Naren (played by Jaideep Ahlawat), a brilliant yet isolated math teacher who lives next door. Without hesitation, Naren takes charge of the situation, handling the body, providing instructions and alibis, and presenting himself as an all-around good guy. It's evident that he has feelings for Maya, an open secret she had previously brushed off. However, recognizing his resourcefulness, Maya feels compelled to make use of their newfound alliance.
As the story unfolds, things take a more intricate turn with the arrival of Inspector Karan (played by Vijay Varma), a sharp and astute law enforcement officer. Sujoy Ghosh seems to have a great time playing these diverse characters—and the talented actors portraying them—off each other. It's like watching two graduates of the Film and Television Institute of India (FTII) engage in a cerebral battle, all while discussing the actress who portrayed Poo in "Kabhi Khushi Kabhie Gham" (2001).
What adds an extra layer of intrigue to the narrative is the underlying sexual tension between the characters. While Naren maintains a respectful distance, he is often compared (with the exception of his hair) to Shah Rukh Khan's character from "Darr." Karan, on the other hand, has a wandering eye, and his descriptions of Maya as Naren's 'hot' neighbor are quite blunt. This tension culminates in a cleverly plotted scene that completely upends our assumptions about character motivations and story progression in an instant.
"Jaane Jaan" has been marketed as Kareena Kapoor Khan's streaming debut, and it's reassuring that the film maintains its ensemble feel. Khan smartly and confidently plays her role as part of a team, complementing her co-stars instead of trying to dominate scenes. Her performance is brisk and unpretentious, almost standing shoulder-to-shoulder with Vijay Varma's.
However, the true standout in the film is Jaideep Ahlawat. He fully immerses himself in the role, portraying a gentle giant whose imposing presence cuts a mesmerizing figure through the misty evenings. At times, an unexpected smile graces his weathered face, much like rainclouds appearing in a desert sky. I was also captivated by the serene and sensual manner in which Ahlawat executes a jujutsu drill—a scene reminiscent of Bruce Lee's philosophy of being "like water making its way through cracks."