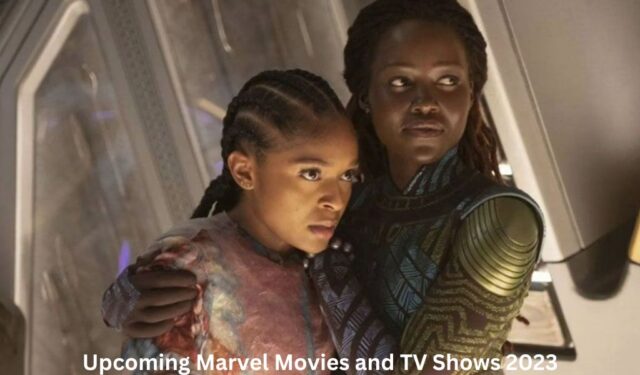 Phase 4 is over, and it's time to move on to the next level. If you're a Marvel fan, you know that some of the most anticipated movies are coming out soon, like the third parts of Ant-Man and Guardians of the Galaxy, as well as the new season of Loki and a lot of new movies with new characters that will make this universe even bigger.
Read More: Most Popular 110 Jilo Virals
Here is a list of all the Marvel TV shows and movies that will come out in 2023, with information about when they will come out and what they will be about.
Marvel Movies
Ant-Man and the Wasp: Quantumania
Paul Rudd is back as Scott Lang/Ant-Man in this story, which will take place in the Quantum Universe, about which we didn't learn much in the second part. Based on what we saw in the trailer, the Van Dyne family's story could end in tragedy.
Also Read: Roblox Demonfall Trello Codes
Lang, his daughter Cassie, and his girlfriend Hope van Dyne, along with their parents Hank Pym and Janet van Dyne, will go on an adventure to explore the Quantum Universe. There, they will find that Kang the Conqueror is in charge of everything.
Release date: February 17, 2023.
Guardians of the Galaxy Vol. 3
The last time we saw the Guardians of the Galaxy was in their holiday special, where we learned that Peter Quill (Chris Pratt) is still sad about Gamora leaving.
Read Also: MethStreams
We are also told that the heroes bought Knowhere from the Collector in an effort to make it a safe place for people from different worlds. But when one of their own is attacked, the team has to defend them. According to rumors and what we saw in the trailer, the story will focus on Rocket's past.
Release date: May 5, 2023.
The Marvels

After what happened Ms. Marvel, Kamala Khan, Carol Danvers, and Monica Rambeau all find out that every time they use their powers, they can switch places. Because of this, they have to find a new threat to face. Not a lot of information is known yet.
Release date: July 28, 2023.
Captain America: New World Order
Little is known about the first Captain America movie with Anthony Mackie, but it is likely that Sebastian Stan will return as Bucky Barnes and Daniel Brühl will return as Baron Zemo, along with other characters from the past.
Release date: May 3, 2023.
Thunderbolts
Thunderbolts is the name of a new Marvel project about a group of former bad guys who get back together to fight for the US government and settle old scores. Ghost (Hannah John-Kamen), Bucky Barnes (Sebastian Stan), US Agent (Wyatt Russell), Yelena Belova (Florence Pugh), and Red Guardian (David Harbour) will be on the team, and Valentina Allegra de Fointaine may be in charge. (Julia Louie-Dreyfuss).
Release date: July 26, 2023.
Marvel Series
What If…? (Season 2)
The second season of the show about the possibilities of the multiverse will start with a new episode of Marvel Zombies and other appearances by both new and old characters.
Release date: Early 2023.
Secret Invasion
Nick Fury, a former SHIELD director who has been working closely with the Skurlls from space, will be played by Samuel L. Jackson in the movie Secret Invasion.
In this series, a group of Skrulls has taken over the world by posing as important people, including some would-be heroes.
Release date: Early 2023.
Threw Out
Echo will follow the events of Hawkeye, especially Maya Lopez's return to Oklahoma, where she will remember more about her past and get in touch with her native roots. She will also have to deal with being apart from Wilson Fisk (Vincent D'Onofrio), who will also be back in this series.
Release date: Mid-2023.
Loki (Season 2)
Loki will come back in his second season after he has caused the branches of the multiverse to come apart. Here, he will try to find Sylvie and deal with a possible new threat to the TVA at the same time.
Release date: Mid-2023.
Ironheart
Ironheart will take place after Wakanda Forever. In that movie, we meet Riri Williams, a young American genius who made an Iron Man suit that the US government can take away.
Release date: End of 2023.
Agatha: Coven of Chaos
Agatha: Coven of Chaos, which follows Agatha Harkness (Kathryn Hahn) after the events of WandaVision, will be the last show of the year. Here, we'll learn more about the witch's past, especially how she got along with other witches who may be her blood relatives.
Release date: End of 2023.