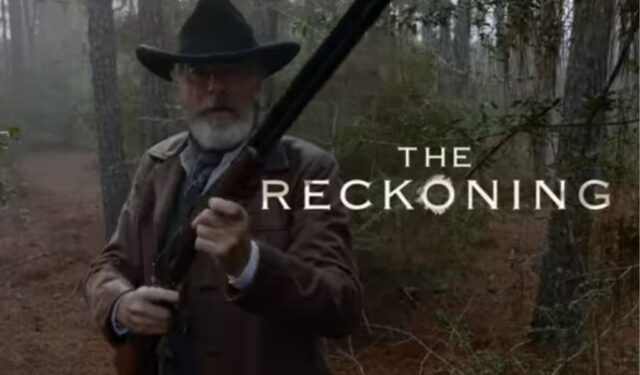 Listen to Podcast:
The Western genre has been giving us very interesting things for years, and thanks to its doses of action, betrayals, violence, and even mystery and romance, it is the favorite of many people today. Cowboy series seems to be in fashion today, partly thanks to the enormous success of projects like Yellowstone. However, in reality, the Western genre has been giving us very interesting things for years.
Read More: The Tourist Season 2
The enchantment of cowboy stories lies in the fact that, despite the fact that they are required to fulfill certain prerequisites (such as featuring jeans), they can have a wide variety of structures. Cowboy stories can be set in the present, the past, or the future; they can tell a horror story, a comedy, or a science fiction story; therefore, there are many ways to approach them, as well as many different kinds of tales that cater to a variety of tastes and preferences.
You can find everything on streaming, from a science fiction narrative about a rancher who finds a weird hole in his land to a series about a group of women who must guard their region against invaders when their husbands go off to battle. and suddenly a myriad of unexplainable occurrences start taking place all around them.
You don't really need to be a fan of cowboy stories in order to enjoy a series with Western elements, and there are quite a few of them that feature great actors, different storylines, and many other things that might grab your attention. If you're looking for something to watch on television, consider looking for something with Western elements.
Read Also: Virgin River Season 5
Here are 8 Cowboy Shows that you Should watch
1. Yellowstone / 1923 – Paramount+
In the film 1923, starring Harrison Ford and Helen Mirren, which serves as a prelude to Yellowstone, we watch the Dutton family struggle to create their fortune despite the challenges posed by the Great Depression and the age of prohibition. Yellowstone, starring Kevin Costner, tells the story of the Dutton family's successors and how they struggle to keep their wealth and their lands in the modern period, despite the fact that they are beset by a variety of adversaries who are out to get rid of them.
2. Outer Range – Amazon Prime
The series stars Josh Brolin as a futuristic cowboy from another world. The first episode of the series is set in the middle of a mystery that unfolds after a mysterious hole appears on the property of a respected man. This draws the attention of the man's neighbors as well as a mysterious woman who appears out of nowhere and is connected to the mystery. When the owner of the hole appears, things get even more complicated. the lands come to the realization that what is taking place right now could have taken place in the past.
3. Godless – Netflix
Godless is a kind of western that takes us to the American West of the 1880s, where the murderer and leader of a band of outlaws, Frank Griffin, searches for former protégé Roy Goode, which leads him to the town of La Belle, New Mexico, which suffered a mining disaster that wiped out nearly all the men and left the women alone. The show has won three Emmys and eight other awards, and its stars include Michelle Dockery, Scot McNairy, and Merritt We.
4. The Son – Amazon Prime
In this period drama television series, Pierce Brosnan plays the role of Eli McCullough, a historical figure. The narrative focuses on a single family and follows them through several generations to illustrate how the discovery of oil enriched many families and contributed to the rise of the United States as a global superpower. However, these families were forced to engage in violent conflict to defend their homelands and thwart their rivals' attempts to steal their discoveries.
5. Warrior – HBO Max
Martial arts and cowboys go hand in hand. This series takes place in the 1800s, during a period of conflict known as the Tong Wars. Andrew Koji and Olivia Cheng star as the series' main characters. An expert in martial arts named Ah Sahm travels from China to San Francisco in the hope of finding a better life. However, he quickly learns that on that side of the world, he is an outcast and that in order for him to survive, he must become some kind of mercenary who sells his services as a warrior to whoever is willing to pay the most money for them.
6. Justified – Amazon Prime
This television show has Timothy Olyphant, Natalie Zea, and Jacob Pitts in starring roles. The story of Justified follows Marshall Raylan Givens, who is transferred from Miami to a coal mining town in Kentucky. Givens grew up in this town, which is located in a rural area and has a low-income population. Raylan is forced to work in the same town he left many years ago in an effort to maintain order and justice because his behavior, which resembles that of previous sheriffs, is causing problems. As a result, he has been reassigned.
7. Deadwood – Paramount+
Both Ian McShane and Timothy Olyphant have roles in this television series, which was nominated for eight Emmys and even spawned a film adaptation. Two men, named Wild Bill Hickok and Seth Bullock, end up on the same side of justice when they decide to face the most powerful man in town, who controls almost all of the businesses and lives of the inhabitants of Deadwood. Deadwood is set in the late 1800s and follows the inhabitants of a North Dakota town that has been scarred by crime and corruption.
8. Frontier-Netflix
This tale starring Jason Momoa is a mash-up of several different genres, including cowboys, pirates, and smugglers. The story of Frontier takes place in Canada and focuses on a man named Declan Harp, a half-Irish and half-Native Cree-Canadian outlaw who wants to find his fortune in the fur trade. However, in order to do so, he must go up against the powerful Hudson's Bay Company, which holds the monopoly on the fur trade and is owned by the British empire, as well as any and all criminals that they encounter along the way.