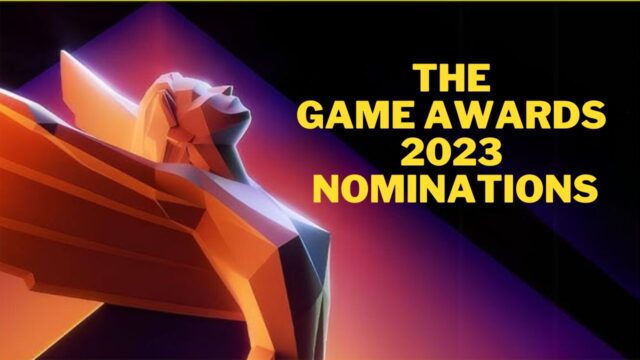 The highly anticipated nominations for The Game Awards 2023 have been announced, recognizing the absolute best in video games and the game creators who brought interactive magic to fans over the past year. Leading the pack with 8 nominations each are two of the year's most eagerly awaited sequels: the surreal horror title Alan Wake 2 from acclaimed studio Remedy Entertainment and the massive fantasy role-playing game Baldur's Gate 3 from developer Larian Studios. Both games scored nominations in the most coveted Game of the Year category.
Alan Wake 2 returns players to the twisted world of author Alan Wake, who finds himself trapped in a nightmare reality shaped by a dark presence. Remedy Entertainment, known for story-driven games like Max Payne and Control, aimed to expand the psychological horror and thriller tones of the original Alan Wake with the sequel. Fans have been longing for a return to this creepy, complex franchise for over a decade since the first Alan Wake game launched in 2010.
Baldur's Gate 3, meanwhile, continues the legendary Baldur's Gate RPG series first made by BioWare in the late 1990s. Belgian developer Larian Studios took over the property for this hugely immersive and intricately detailed third mainline title. With gameplay focused on turn-based combat and unprecedented freedom in character creation and quest approaches, Baldur's Gate 3 promises to be the most ambitious entry yet for this fantasy role-playing icon.
Other Games Vying for Game of the Year Glory: New Entries in Fan Favorite Franchises
While Alan Wake 2 and Baldur's Gate 3 lead the field, they face stiff competition for the ceremony's biggest award, Game of the Year. The other four contenders are also high-profile sequels or new iterations of some of gaming's most popular and acclaimed franchises.
Marvel's Spider-Man 2 sees Insomniac Games return to the fan-favorite PlayStation exclusive Spider-Man series after the huge success of 2018's Marvel's Spider-Man. This time out, both Spider-Man and Miles Morales team up to protect New York from an array of supervillains. 2023 also saw the release of a visually stunning Resident Evil 4 remake from Japanese gaming giant Capcom. This modern take on the beloved 2005 survival horror classic features improved gameplay and storytelling.
Nintendo takes up the final two Game of the Year spots with a pair of hotly anticipated titles from their mega-franchises. Super Mario Bros. Wonder represents a new concept for the Mario series, with an interconnected, free-roaming Mushroom Kingdom. It shakes up the traditional platforming gameplay model. Finally, The Legend of Zelda: Tears of the Kingdom looks to build on Breath of the Wild's open-world reinvention of the Zelda franchise with more mysteries to solve across an expanded map of Hyrule.
Best Adaptation Category Highlights Video Game-Inspired Movies, Shows, and Anime
A category first introduced at the 2022 Game Awards, Best Adaptation recognizes excellence in expanding video game universes into other media. The nominees this year showcase the huge boom of animated shows, live-action films and series, and more inspired directly by video game properties and stories.
Netflix's CG anime series Castlevania: Nocturne continues the dark vampire saga from the classic Konami games. Another Netflix property, the acclaimed post-apocalyptic drama The Last of Us, based on the PlayStation games, nabbed a nod. Sony Pictures' recent Gran Turismo movie, Sony's film adaptation of its landmark racing sim series, also earned a nomination.
On the animated film side, Universal's critically and commercially successful The Super Mario Bros. Movie did justice to Nintendo's iconic mascot. And from Sony and PlayStation Productions, the over-the-top car combat show Twisted Metal for Peacock expands the classic vehicle arena fighting franchise into live-action.
Nintendo Leads Publishers in Total Nominations; Over 100 Games Represented Across the Awards
Counting up all nominations across categories, Nintendo leads as the publisher with the most 2023 Game Awards nods, with a total of 15. Sony Interactive Entertainment and PlayStation Studios follow closely behind with 13 nominations, combining titles published by both Sony and third parties for PlayStation consoles. In third is Xbox Game Studios, with 10 nominations, including properties from subsidiaries Bethesda Softworks and Blizzard Entertainment. Epic Games takes fourth with nine nominations, largely thanks to Alan Wake 2.
The wide range of nominated games, individuals, teams, and esports events totals up to over 100 different nominees. This demonstrates the incredible breadth and diversity of interactive entertainment in 2022. The Game Awards honor massive big-budget AAA blockbusters right alongside indie darlings and mobile titles. Truly, all sectors of the gaming world are represented.
Fans help choose the winners through public online voting
Whoever ultimately takes home the awards on December 7 lies in the hands of the fans, as public online voting is now open at the Game Awards website. Voting remains open through December 6 at 6 p.m. Pacific Time. Fans can make their voices heard and vote for their favorite games and creators across all categories. To participate, simply create an account, select nominees, and submit your ballot.
The winners are determined by a weighted combination of the fan vote and an international jury of over 100 global media publications and influencer outlets. So both gaming's biggest supporters and most knowledgeable experts in the media get input on the winners.
The Game Awards 2022 Stream Live December 7, With Reveals, Musical Performances, and Celebrity Presenters
On December 7, the 10th annual Game Awards ceremony will stream globally across more than 30 digital platforms. Viewers can tune in on YouTube, Twitch, Twitter, Facebook, TikTok, and many other sites for a live broadcast recognizing gaming's best and brightest across 2022.
Beyond celebrating the year's top artistic and entertainment achievements in games, the show promises exclusive sneak peeks and first looks at upcoming 2023 games. A-list musical acts will provide show-stopping performances. Top celebrities from gaming and entertainment will take the virtual stage to present the awards throughout the night.
With Alan Wake 2 and Baldur's Gate 3 leading nominations and so many amazing games vying for the coveted Game of the Year award, the Game Awards 2022 are shaping up to be an unforgettable tribute to gaming's triumphs. Tune in on December 7 to see which titles and creators walk away with the medium's highest honors. It's set to be a can't-miss show for video game lovers.