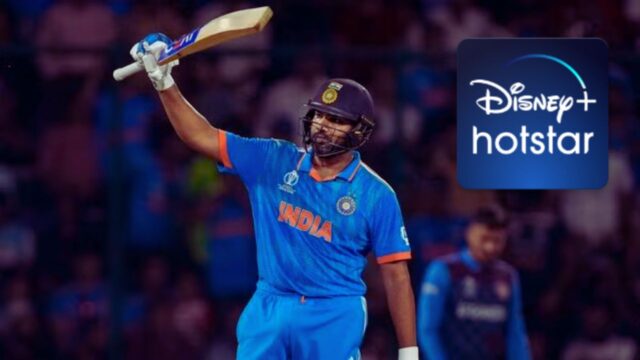 For a few hours on Saturday, Disney's struggling Hotstar streaming service in India regained its crown as the top streaming platform in the world. A high-profile cricket match between regional rivals India and Pakistan drew a record 35 million concurrent viewers to Hotstar, surpassing other services like Netflix and Amazon Prime.
The intense interest in cricket in India gave Disney executives a much-needed boost as they reportedly prepare to sell the company's India operations. After losing over 20 million subscribers in the past year, Disney is said to be intensifying its search for a buyer for Hotstar and its other Indian assets.
Hotstar's streaming of the India vs. Pakistan match allowed it to beat the previous record of 32 million concurrent viewers set recently by upstart rival Viacom18's JioCinema service. Backed by Indian billionaire Mukesh Ambani, JioCinema has rapidly grown in popularity after outbidding Disney for local streaming rights to cricket matches. Additionally, you can also read about- NASA Plus: Unveiling the New Streaming Service by NASA
Disney Is Betting Big on World Cup Cricket
As Disney executives hunt for a buyer, they are hoping the ongoing ICC Cricket World Cup will help turn Hotstar's fortunes around. Disney is streaming the matches for free to mobile viewers, aiming to combat the rise of Viacom18 and JioCinema.
Internally, Disney has projected that Hotstar could reach 50 million concurrent viewers during the nearly 50-day tournament. They estimate over 80% of India's video streaming users will tune into the World Cup on Hotstar. The cricket matches represent a major opportunity for Disney to reconnect with Indian audiences.
But challenges remain due to falling subscriptions and the aggressive growth of Ambani's Viacom18 service. Viacom18 has poached several key executives from Disney's Star India business in recent months. Disney acquired Star India as part of its purchase of Fox assets in 2019. If you want you can also read- Top 100 MLB66 Alternatives for Free Streaming Service in 2023
The fate of Disney's India business, once seen as a crown jewel for Fox, will likely be decided in the coming weeks. Disney executives are expected to finalize plans for selling Hotstar and other India operations shortly after the World Cup concludes next month. For now, the India-Pakistan cricket match gave Disney's struggling Hotstar a much-needed boost in popularity and prestige.