Listen to the Podcast:
If you've just spent hundreds of dollars on a top-tier gaming setup, you might be tempted to save on the extra peripherals, but you'd be foolish to do so. The external hardware will be in charge of all the processing going on within your PC. Picking up a gaming keyboard can drastically alter the feel and function of your setup, and it may even improve your multiplayer skills.
With so many keyboards to choose from and words to decipher, navigating the RGB-heavy world of gaming peripherals may feel like a drag. However, if you choose the correct keyboard, your gaming and typing experiences will be anything but. We've compiled a list of 10 of the best gaming keyboard brands on the market so you can spend less time researching and more time gaming.
Which is the Best Gaming Keyboard Brands for You?
Mechanical keyboards are defined by their switches, of which there are many. They all have a different feel, and it's difficult to know which one is best for you without touching them. Logitech and Razer, for instance, utilize their own proprietary switches, further complicating matters.
Switches are commonly available in one of three configurations, regardless of who manufactures them:
Clicky switches typically have very little resistance in the middle of the stroke, followed by a sharp click as you press the key all the way down.
Tactile switches behave similarly, but with a less pronounced click after that mid-stroke resistance.
Linear switches feel smooth, quick, and sensitive—like hair triggers on a game controller.
READ MORE: How to Send Messages on WhatsApp Without Internet on Phone?
Roccat Magma
Budget pick
Specs
Key type: Membrane
Size: Full size, 17.8 x 8.86 x 1.5 inches
Features: Quiet keys, adjustable RGB backlight, Easy-Shift duplicator
Don't tell anyone, but a budget membrane keyboard is frequently superior to a budget mechanical keyboard. It's an idea that the Roccat Magma boldly proves, with big, silent membrane keys that outperform the other options at this price point.
The Magma's feel will be familiar to anyone who has used an office keyboard, but its Game Mode function, Easy-Shift button, and a full RGB backplate sell its gaming credentials. Despite its very loud displays, individual keystrokes scarcely produce a sound, making this an excellent choice for anyone looking for a quiet keyboard that won't break the bank.
Razer Blackwidow V4 Pro
Best for features
Specs
Key type: Green mechanical switches (clicky)
Size: Full size, 18.36 x 8.8 x 1.73 inches
Features: Razer Chroma RGB lighting, USB passthrough, detachable wrist rest
Consider Razer's Blackwidow V4 Pro if you're ready to spend the money on a feature-rich, dependable gaming keyboard that's as comfortable as it is haptic. Its mechanical switches are as clicky as they get, which is ideal for individuals who prefer an audible reaction to each keystroke, and they have a very short travel distance.
This keyboard distinguishes out due to its wealth of features. Five macro keys, along with three pre-set buttons on the side, allow you to script actions, while a command dial on the upper left controls brightness, switches apps, and zooms in and out of a page. Add in the extremely nice padded wrist rest, and it's as ergonomic as a gaming keyboard can be.
ALSO READ: Don 3 Release Date, Cast, Storyline, Trailer and More
The placement of the macros is a little off-putting at first, but it's nothing you won't get accustomed to. The Blackwidow V4 is an all-around keyboard that is sure to suit everyone and doesn't scrimp on RGB illumination.
Corsair K95 RGB Platinum XT
Best build quality
Upon closer inspection, however, you'll notice that the XT offers customization in nearly every area. Customizable Game Mode and macros, Cherry MX Blue, Brown, and Speed Silver switches, and Elgato Stream Deck integration for when you want to transition from gaming to streaming.
The keyboard features robust anti-ghosting technology and USB 2.0 pass-through, allowing you to connect peripheral accessories. The media controls consist of a large volume wheel and buttons for adjusting the screen's brightness, lighting effects, Windows Key Lock, and Game Mode. It's reasonably large, but the sacrifice in size is justified when you consider all the included features.
SteelSeries Apex 3
Best quiet gaming keyboard
Specs
Key type: Whisper Quiet membrane switches
Size: Full size 5.94 x 17.52 x 1.57 inches
Features: 10-zone customizable RGB lighting, IP32 water resistance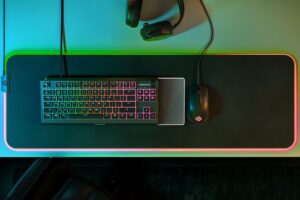 SteelSeries claims that its keys can withstand 20 million strokes. That is a long lifespan for a keyboard, unless you are a 24-hour gamer. The keyboard is constructed with water-resistant materials, allowing you to reach 20 million keystrokes despite inadvertent spills. This durability is not at the expense of a fluid gaming experience, thanks to 24-key rollover.
HyperX Alloy Elite 2
Best for illumination
Specs
Key type: HyperX Red linear switches
Size: Full size, 17.5 x 6.9 x 1.5 inches
Features: Low-noise switches, customizable lighting and function keys
The HyperX Alloy Elite 2 provides enough features for dedicated gamers at an affordable price. This keyboard features HyperX's well-received red linear switches and translucent ABS "Pudding" keycaps, but its remarkable RGB illumination is its primary selling point. Individual backlight alternatives can be assigned to individual keys for increased customization.
ALSO READ: All Fast and Furious Movies Ranked. Here's Why
You can designate custom macros to the HyperX Ngenuity configuration software to simplify frequently-used command sequences, and you can disable keys, such as the Windows key, to prevent any annoying accidental keystroke from kicking you out of the game mid-game.
Corsair K63
Best for wireless gaming
Specs
Key type: CHERRY® MX Red mechanical
Dimensions: Tenkeyless, 14.4 by 6.8 by 1.6 inches
Features: High-speed wireless connection, detachable soft-touch wrist rest, blue-lit LED
The K63 connects via USB dongle or Bluetooth (or can be connected up with a USB when not in use), and its rechargeable battery provides up to 15 hours of operation. The tenkeyless design makes the keyboard smaller and more portable, while the Cherry MX Red key switches are smooth and responsive.
With blue LED backlighting, assignable macros, changeable lighting effects, and a removable soft-touch wrist rest, this gaming keyboard is both portable and comfortable.
MSI Vigor GK71 Sonic
Robust mechanical gaming keyboard 
Specs
Features: Wired (USB) Keyboard backlighting, YesSwitches
READ MORE: Apple Hiring Professionals to Work on AI-powered Products
It comes in two varieties — one with a red switch and one with a blue switch, with the blue switch type being the one we tested. The blue clicky mechanical switches demand slightly heavier presses, but have a shorter actuation distance of 1.4mm. This can be a double-edged sword, since we found it easy to activate a key while our finger was lying on it. However, the switches themselves are extremely fast and responsive, designed for professional gamers.
The software is simple, it contains a number of useful functions. A innovative dual-touch volume wheel provides a surprising touch of convenience we didn't even realize we needed, and a plush wrist rest keeps users comfy.
Razer Huntsman Mini
Best Small Gaming Keyboard
If you're unfamiliar, a 60% keyboard contains 60% of the keys found on a standard-sized keyboard. The numpad and arrow keys have been removed, leaving you with only the essentials. The Razer Huntsman Mini is my favorite gaming mouse of this size. It has the same responsiveness and speed as a full-size keyboard, but it takes up far less desk space. It just has a really nice and organized feel to it. Furthermore, the Mini, like the larger Huntsman Elite above, is compatible with Razer's key cap kits, allowing you to customize your color scheme. The mercury white with pink key caps appeals to me.
NZXT Function
Best for Beginner Customizing
If you want to customize your mechanical keyboard but don't know where to start, the NZXT Function (8/10, WIRED Recommends) hits the sweet spot. The builder tool allows you to choose the type of switches, key caps, and even cable color for your gaming keyboard, and the company will put it all together for you.
ALSO READ: What is Web3 Gaming?
SteelSeries Apex 7 TKL
For competitors
Numerous keyboards claim to be designed for enthusiasts on the basis of RGB lighting or responsive switches, but SteelSeries' Apex 7 TKL backs up its claims. It features mechanical switches with a gratifying click and a sturdy aluminum frame. It even has the same LED display for system alerts as its sibling, the Apex Pro. You can use it to see who is speaking in Discord and to obtain in-game data.
The software makes this keyboard extremely valuable. For specific games, it can trigger various lighting conditions based on in-game events, such as flashing the R key whenever you need to reload. Additionally, you can customize the functions of each key, record custom macros, and input third-party applications such as Discord. If you want a great deal of influence over your game, it's difficult to find a better program than this one.
Frequently Asked Questions (FAQs) about best gaming keyboard brands
Do gaming keyboards make a difference?
If you only play games sometimes, a conventional keyboard will suffice. However, if you frequently play competitive multiplayer games or spend long periods of time sitting in front of your computer, you'll notice the tactile and ergonomic benefits of a gaming keyboard. It's the one thing you'll spend the most time contorting your fingers over, aside from a gaming mouse.
What should I look for in a gaming keyboard?
There are a few crucial qualities to look for and vocabulary to understand, but keep in mind that your final decision will be based on your budget, aesthetic preference, and what feels best beneath your fingertips.
What gaming keyboard is compatible with PS5 and Xbox Series X?
Keyboards can also be utilized with the most recent console generation. The Xbox Series X can connect to them via USB, and the PS5 can also connect via Bluetooth. Although few console games offer keyboard-and-mouse control schemes, it can make typing on the consoles much easier. Any USB or Bluetooth keyboard should work, however you'll probably want a wireless board to get some distance from your TV.
Which best gaming keyboard brands is the quietest?
Although mechanical key switches are popular among gamers, they can be noisy. Each keystroke generates a noise, and while some people appreciate auditory input, you may find it annoying. If you insist on mechanical switches but despise noise, look for a keyboard featuring Gateron Silent, Cherry MX Silent, or Matias Quiet Linear switches. Otherwise, because their soft switches are barely audible, you would be better suited with a membrane keyboard.