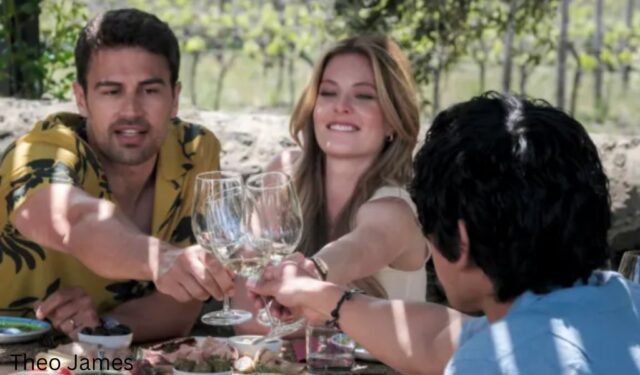 Theo James is one of the movie actors who has done a great job moving to TV. He has landed roles in major shows that show that the size of the screen has nothing to do with how good a story is.
Read More: DarkAnime
The actor was most recently in The White Lotus: Sicily, which is nominated for a Golden Globe in 2023. In that movie, he plays a rich, out-of-touch businessman who invites his "friend" and his wife on a terrible vacation. Cameron is a bad person, but thanks to James, he becomes a great character that we both love and hate to see in action.
Read Also: Demonfall Trello
The White Lotus was a turning point in the actor's career, but it's not the only good show he's been in (he had a small part in The Witcher), and it's not the last we'll see of him, either. Here, he showed that he has what it takes to be a good "villain," but the rest of the series shows him that he can also be the hero or any other character he wants.
Theo James Best Series 
1. The White Lotus: Sicily – HBO Max
The second season of this anthology takes place in an amazing hotel on the coast of Sicily. James plays a man who is traveling with his wife and some friends. His story intersects with those of a couple of prostitutes and other people staying at the hotel, where a number of murders happen, which makes us all suspicious at first. The show has already been picked up for a third season, which will take place at another hotel in the chain.
2. The Time Traveller's Wife – HBO Max
Based on the film with Eric Bana, this series is about a man who can travel between the past, present, and future, but he can't control it, so he appears and disappears at different times without warning or explanation. His wife, played by Rose Leslie, has to keep his secret and take care of him while he travels, knowing that each trip could end in tragedy.
3. Castlevania – Netflix
This animated series is one of the best anime shows on Netflix, and Theo James is one of the voices in it. In Castlevania, a vampire hunter fights to save a city from an army of dark, demonic creatures led by Dracula. At the same time, he is trying to win back the honor of his family, which has been hunting vampires for generations.
4. The Dark Crystal: Age of Resistant – Netflix
This great show is kind of like a prequel to the classic Jim Henson movie from the 1980s. The series tells the story of the world of Thra and how corruption and abuse of power changed the mysterious crystal that gives life to the world. For this series, the team fixed up some of Henson's original puppets by using both "old" and "new" techniques. They also added new characters voiced by some of today's most famous actors, whose voices you'll recognize from Star Wars, Game of Thrones, and your other favorite movies.
5. Downton Abbey – Amazon Prime
In this series with Michelle Dockery and Hugh Bonneville, James has a small but important part. The series is about a wealthy British family at the turn of the 20th century. They have to deal with war, the coming of electricity, the weddings of their daughters, and many other things while trying to keep their status in a world that is always changing.
6. Sanditon
This show is based on a well-known book by Jane Austen. Sanditon is the story of Charlotte Heywood, a smart and determined woman who moves from her family's rural home to a town that wants to become a new tourist destination in England. There, she wants to become an independent and successful woman.
7. Divergent Saga – HBO Max
This is more of a movie series, which is based on a book series with the same name. James stars opposite Shailene Woodley, who plays a teenager in a world divided into sections with different responsibilities and personalities. She fits into all of them and none of them, making her a threat to those who want to keep order and power.