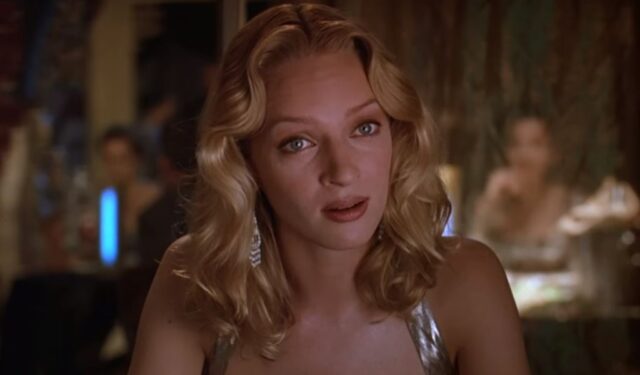 Listen to Podcast:
The genres of science fiction, drama, comedy, and most recently television have all been represented in Uma Thurman's work, and her career has been defined by great directors, awards, major sequences, and classic movies.
Read More:  Sweet Magnolias Season 3
She rose to the top of the profession because of her amazing talent, wonderful personality, and that rare beauty that has captured the attention of a great many people. As a result, Thurman is a giant in the industry.
But she is more than Mia Wallace or the bride in Kill Bill, she actually has a long list of movies that are perfect. Thurman became an icon of popular culture with her role in Pulp Fiction, and she is honored in other series and films, works of art, and even Halloween costumes that reappear year after year.
Read Also: Jennifer Aniston Best Movies
There is no question that she is one of the best actresses of her generation, and all it takes is a few movies to see that she is capable of playing any role imaginable without fail in order to be convinced of this.
Uma Thurman and her Best Movies
1. Kill Bill: Vol. 1 – On Demand
The Kill Bill film, directed by Quentin Tarantino, opens with a lady regaining consciousness after being in a coma for an extended period of time. She is reminded that she arrived there as a result of deceit and misfortune, and as a result, she makes the decision to use her expertise in martial arts to seek revenge on everyone who played a role in her story with the intention of doing her harm in some way, continuing on until she reaches the man who was responsible for organizing everything.
2. Pulp Fiction – On Demand
This film is another collaboration between Tarantino and Thurman, and it features the actor in the company of Samuel L. Jackson, John Travolta, and Bruce Willis. Pulp Fiction follows a number of characters whose lives are intertwined by violent and illegal circumstances, beginning with the wife of a gangster who is to be "taken care of" by one of his thugs, but finds that keeping her alive is more difficult than he had originally anticipated. Pretty much in line with my own assumptions.
3. Nymphomaniac: Volume 1 – On Demand
Lars Von Trier is the director of these eerie films. In one of them, a woman who is addicted to sex is attacked and severely beaten, but she is rescued by a stranger, and after she recovers, she decides to tell the stranger everything that has happened to her, including how she got to this place in the first place. Charlotte Gainsbourg and Stellan Skarsgard both make appearances in the film alongside Thurman.
4. Les Miserables – On Demand
Before it was adapted into a musical, this movie was based on a well-known novel of the same name. The story follows an ex-convict who is able to start a new life for himself but must run away from a police officer who wants to ruin him. In this film, Thurman portrays the role of a hopeless mother who, in order to provide for her kid after losing her job, has no choice but to become a prostitute.
5. Dangerous Liaisons – On Demand
This film starring Glenn Close, John Malkovich, and Michelle Pfeiffer is an adaptation of the erotic novel of the same name and tells the story of two French nobles who decide to start a game of seduction in order to get rid of their boredom. Both the Vicomte de Valmont and the Marquise de Merteuil are competing to see who can seduce the most people, but they are unaware that this game may lead to their downfall.
6. Henry & June – On Demand
Thurman and Fred Ward play the roles of Anas Nin and Henry Miller, respectively, in this film from 1990 that tells the story of how Anas Nin meets the American author Henry Miller in Paris in 1931. This encounter inspires Anas Nin to write a sexual diary in which she discusses her relationship with both Henry and her wife June.
7. The House that Jack Built – On Demand
This is another project that stars Uma Thurman and was directed by Lars Von Trier. Riley Keough and Matt Dillon also star in the film. This is the narrative of a heinous serial murderer who picks his victims with great care and then murders them brutally in order to use their bodies to construct a horrific house over the course of 12 years. The story follows the killer as he goes about his business.
8. Gattaca – On Demand
This sci-fi classic, which stars Thurman and Ethan Hawke, is set in a future in which humans have discovered a way to genetically edit babies in order to remove so-called "blemishes" and diseases. This has the effect of making "natural" children into second-class citizens because they do not have the same opportunities. There, an unaltered guy makes the decision to engage in fraudulent activity in an effort to realize his ambition of making it into space.
9. Batman & Robin – HBO Max
Even though it's not the best Batman movie, Uma Thurman delivers a fantastic performance as the villain Poison Ivy in this one. In this movie, Batman and his sidekick Robin have the responsibility of defending Gotham City from a bunch of criminals who begin to coordinate their efforts in order to generate confusion and panic in the city in preparation for freezing it solid. In the movie, you'll see cameos from characters such as Mr. Freeze, Poison Ivy, and Batgirl.