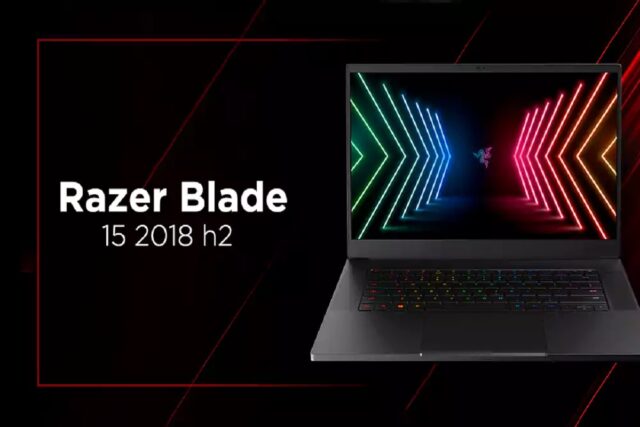 Listen to the Podcast:
The Razer Blade 15 2018 H2 is currently one of the best gaming laptops on the market. This laptop is unusually lightweight for expert PC gamers, weighing less than 2.1 kg considering its capabilities.
It has all the required components for an outstanding gaming experience, including a fast 8th-generation Intel Core processor, 16GB of RAM, and an NVIDIA GeForce GTX 1060 Max-Q graphics card.
The 15.6-inch display's Full-High-Definition (FHD) resolution and vibrant color palette produce stunning visuals. In addition, the customizable Chroma RGB lighting creates a more immersive gaming environment.
In addition to being an outstanding gaming gadget, this laptop performs brilliantly as a tool for work. As gamers, we believe that selecting a laptop involves careful consideration, which is why we've compiled this evaluation to help you make the best buy.
In this Razer Blade 15 review, we disclose everything behind the hood of the 2018 version of the Razer Blade 15 in order to determine whether it is a worthwhile purchase.
Razer Blade 15 2018 H2 Review
The Razer Blade 15 2018 H2 is an excellent new gaming laptop that is significantly less expensive than you might expect. It costs $1,799 and features an Intel Core i7-8750H and an Nvidia GeForce GTX 1060 Max-Q processor. The Razer laptop is among the first to provide dual storage and Gigabit Ethernet. Below is a detailed analysis of the new model, which offers the optimal balance of performance and price.
The Razer Blade is equipped with the most up-to-date Intel CPUs, which are just beginning to appear in the majority of gaming laptops. In addition, 16GB of RAM and a GeForce GTX 1070 graphics card are included. In PCMag's benchmark tests, the Razer Blade demonstrated exceptional performance. But, not everyone will value it, regardless of cost. Consider acquiring a laptop cooling device or stand.
The Razer Blade is a good option for business owners looking for a high-quality laptop for daily usage. Despite not being the most powerful gaming laptop, it nevertheless supports high-level gameplay. It has a matte black finish that is resistant to fingerprints and is compatible with the great majority of gaming accessories. In addition to its keyboard, the Razer Blade 15 includes three USB 3.1 ports and one USB Type-C port for connectivity.
Read More: Clevo NH70
Specification
This laptop is a wonderful option for any gamer seeking a portable gaming station at an affordable price. Even if its battery life and storage capacity are average, it is packed with features that will make your gaming sessions continually exciting.
Features

Specifications 

Display

15.6 inches

Pixels per inch

141.2 pixels per inch 

RAM

16 GB

Storage

1128 GB

Battery life

4.9 hours

Frame per inch

50.25 frames per inch

Processor

i7-8750H (2.20 GHz)

Chipset Brand

NVIDIA

Weight

2.1Kg

Operating System

Windows 10 home

GPU

NVIDIA GeForce GTX 1060 Max-Q

Memory Speed

2666MHz

Processing Speed

2.40GHz

Connectivity

WiFi

Bluetooth

Ports

USB Type A, Thunderbolt 3

Price

$1799 
Important Features of Razer Blade 15 2018 H2
Design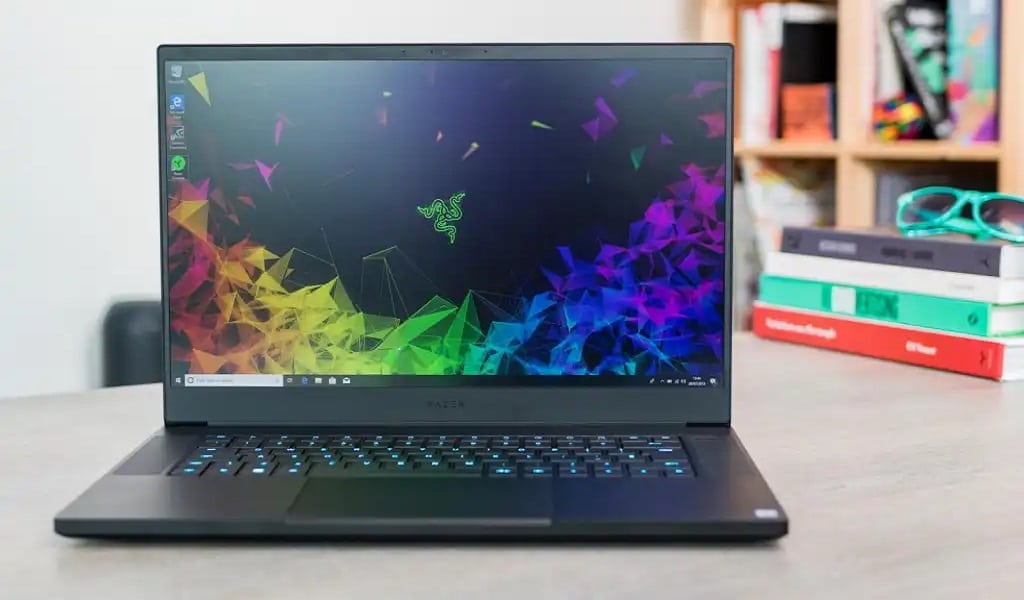 The Razer Blade 15 2018 H2 is a laptop design masterpiece. It boasts an ultra-thin aluminium unibody with a thickness of 0.7 inches and a weight of 4.56 pounds. The laptop offers a stunning full HD display with a remarkable refresh rate that provides images without motion blur.
The 8th Generation Intel Core i7 processor and NVIDIA GeForce GTX 1060 Max-Q graphics provide the user with the processing capacity necessary for demanding gaming or productivity tasks, such as video editing and creative work. Also, this laptop is equipped with up to 16GB of RAM and 256GB of SSD storage, allowing users to save their files securely and retrieve them swiftly when necessary.
Memory
The Razer 15 comes standard with 16 GB of memory. This indicates that you have excellent multitasking and app-switching capabilities. Moreover, the memory is not soldered and is expandable to 32 GB.
Processing Power
The 2.20GHz processing speed of the Intel-powered i7-8750H processor is insufficient for playing the most recent high-end games. Before considering this gaming laptop, scepticism is needed because it is highly unlikely to meet quality standards.
Graphics Card
The Razer Blade 15 2018 is equipped with the multi-player-optimized NVIDIA GeForce GTX 1060 Max-Q graphics card. It can easily play older games but cannot comprehend the aesthetics of modern games. Razer 15 2018 h2 should only be chosen if multiplayer gaming is desired.
Resolution
If you're looking for a laptop for gaming or personal document processing, the Razer blade's resolution of 1920 x 1080 is a good feature to look for. The display's resolution and 15.6-inch size make it perfect for playing a range of games.
Duration of Battery Life The device's battery life is, at best poor. Although being a lithium-ion battery, this battery has a somewhat short lifespan; it may be used for five to six hours on a single charge with mixed usage and considerably less when gaming.
However, it is essential to be aware that this laptop uses a substantial amount of battery life when playing games, and it is generally advised to avoid playing games while on batteries.
Battery Life
The Blade 15 has a 15.6-inch display with superior brightness, contrast, and colour. It features a 100 percent sRGB colour gamut, which is good for gaming but inconsistent for media editing and other applications.
The display of this Razer Blade boasts a high degree of brightness, but its glossy surface makes it a fingerprint magnet.
Display
The Blade 15 has a 15.6-inch display with superior brightness, contrast, and colour. It features a 100 percent sRGB colour gamut, which is good for gaming but inconsistent for media editing and other applications.
The display of this Razer Blade boasts a high degree of brightness, but its glossy surface makes it a fingerprint magnet.
You must use caution when interacting with the touchscreen. Moreover, the display boasts a native refresh rate of 144Hz, and the response time is excellent, particularly for first-person shooter games.
This display employs IPS technology, and although it cannot display as many colours as the MacBook Pro, it provides more colours than the average gaming laptop.
Operating System
Operating System The Razer 15 comes preinstalled with Windows 10 Home. In addition to a familiar environment, the operating system is upgradable to Windows 11, allowing you to take advantage of the most recent designs, user interface, and operating system capabilities.
Weight
Although gaming laptops are rumoured to be cumbersome, the Razer Blade does not disappoint its fans. Due to its portability and light weight of 2.1 kilograms, it is a convenient travel option.
Read Also: Clevo PA71
Keyboard, Speakers, & Trackpad
When looking for a new laptop, it is crucial to analyze its technology. The Razer Blade 15 2018 H2 laptop's keyboard, trackpad, and speakers make working on it easier and more enjoyable. The keyboard has anti-ghosting keys with individually LED RGB lights to improve typing responsiveness and precision. In addition, it has macro keys with quick access for enhanced productivity.
The trackpad is ideal for gamers, graphic designers, and users who undertake typical tasks such as web browsing and email composition because of its precise tracking and navigating capabilities. The laptop's speakers incorporate Dolby Atmos surround sound technology, providing an immersive audio experience great for watching movies or listening to music.
Price
The 2018 iteration of the Razor Blade 15 h2 is priced at $1799. The price of today's laptops has reached unheard-of heights, as a result of which they are quite pricey. Razer Blade laptops, including the razer blade 15 2020 and razer blade 15 2023, are excessively pricey for the average consumer.
The Razer Blade 15 2018 is a superb gaming and school laptop due to its price. It is portable and capable of running the majority of games. The keyboard is responsive and comfortable, enabling speedy writing. The battery has a lifespan of four hours.
Read More: Top Signs Time to Replace your Mac
Gaming Performance 
Considering Razer markets this laptop as a gaming laptop, it is reasonable to presume that gaming performance is substantially more essential than with other laptops.
Thankfully, the gaming performance of the Razer Blade 15 2018 H2 does not disappoint. It operates on an older GTX 1070 Max-Q, but our testing proved that you could play the great majority of games at FHD resolution and maximum settings without any problems.
In several modern games, such as Elden Ring, God of War, and Spider-Man, you may choose to decrease the graphics settings slightly.
But this laptop's thermals are excellent, which is a positive. You can proceed with the assurance that there will be no obstacles. This laptop has sufficient vents so that playing a game on it will not be issued.
Connectivity
The Razer Blade 15 2018 H2 laptop has advanced Wi-Fi and Bluetooth networking capabilities. Dual-band Wi-Fi offers clients a faster and more reliable internet connection regardless of location. Even in regions with weaker signals or multiple connected devices, the 22 antenna ensures a solid connection. Also, the laptop is equipped with the latest Bluetooth 5 technology for improved performance when connecting external devices such as headphones and speakers.
This provides users with a wider dynamic range and improved sound quality when watching movies or listening to music on their computers. In addition to enhancing connectivity with other devices, the Wi-Fi and Bluetooth features of this laptop make it simple to transfer between networks quickly and securely.
Read Also: Data Scraping on Social Media Platforms
Razer Blade 15 2018 H2 Performance
The Razer Blade 15 is a market-leading product. The Razer Blade 15's 100% RGB colour gamut produces bright colours. Moreover, it has a refresh rate of 144Hz, letting games run regularly and smoothly. Throughout manufacture, the Razer Blade's display has been calibrated to provide the highest possible image quality. But, this is not affordable. The display quality is great. But, the battery life may be enhanced. The duration of the normal mode is merely two hours. Yet, the battery-saving mode can last up to five hours. The Razer Blade features an astonishing number of ports.
The Blade 15 is a visually appealing machine. Moreover, its construction is remarkable. The deck is unbent, and the aluminium frame appears solid. This design was chosen by Razer due to its quantity of premium components. The Blade 15 is superior in multiple ways. The most recent release features better aesthetics and a larger display. In general, the Razer Blade 15 (2018) H2 Review will offer a superior experience.
The Razer Blade 15's thinness is a key feature for gamers. The keyboard is user-friendly, and the battery life is sufficient for a gaming laptop. There are several issues. You will experience problems with your keyboard, trackpad, and display, preventing you from playing your favourite games.
Pros & Cons
Pros
Full HD IPS Monitor with 144 Hertz Refresh Rate
Superior building quality and appealing visuals
Dedicated GeForce GTX 1070 Max-Q graphics card
Great gaming performance
16 GB DDR4 Memory for enhanced responsiveness.
Keyboard with tactile keys and Chroma illumination
Many connectivity options
G-Sync
Cons
There is insufficient power to charge more gadgets.
Due to this device's limited battery capacity, power outages are likely.
Owing to frequent obstructions of its fans, the ventilation of the laptop is inadequate.
Very expensive.
MicroSD card external hard drives are incompatible due to the lack of a slot.
Major Drawbacks of Razer 15 Laptop
Several factors rendered the Razer blade incompatible with the gaming needs of new players. Many of these are detailed below.
The NVIDIA GeForce GTX 1060 Max-Q has unreliable visuals for demanding games. It is not compatible with the current gaming infrastructure.
It is general knowledge that battery power is a must for the longevity of gaming entertainment.
The i7-8750H (2.20 GHz) CPU of the Razer 15 2018 does not support games requiring extensive processing and is inappropriate for newly created titles.
Read Also More: Monoprice 110010
Why Should You Buy This Laptop? 
If you're looking for a high-quality gaming laptop, this is a terrific option. This system is capable of running even the most demanding games, thanks to its 16GB of Memory and 16GB of RAM.
The chassis is composed of aluminium, has a luxury feel, and is long-lasting. The screen's size and brightness make it ideal for watching movies and playing video games. The Razer Blade 15 2018 H2 is unexpectedly thin and lightweight, making it portable.
The backlit keyboard is quite comfortable to use for long periods of time.
Final Words
The Razer Blade 15 2018 H2 is not the greatest gaming laptop currently available on the market, but it meets many crucial gaming specifications. It is an inexpensive laptop with decent performance, and you will not have to empty your financial account to acquire it.
This gaming rig offers an excellent value-to-price ratio, so if you are searching for an economical gaming rig that can run most modern games, you should try it.