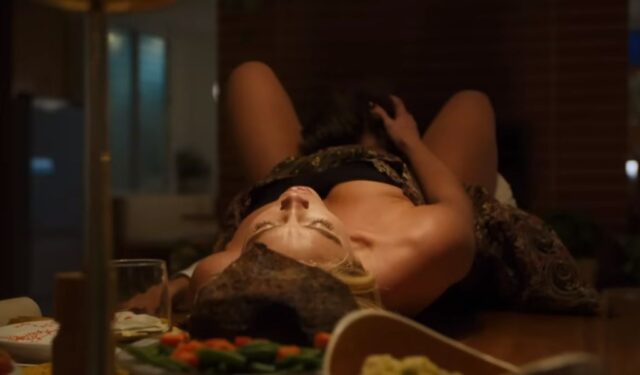 What is it that all of the sexiest movies in cinematic history have in common? Although they don't all deal with the same subject matter, each one features a unique cast of characters, a unique plot without any connecting elements, and a very different environment.
Read More: When Will My Hero Academia season 7 be Renewed or Canceled?
we still find ourselves unable to turn away from any of them because they stir up something in us, and this is especially true when the on-screen chemistry between the leads is so strong that it can't be ignored.
There is no genre of sexy movies because it may be horror, romance, comedy, or even animation (remember Anomalisa), but this simply means that there is a lot to view and discover and that whatever genre you like the most, you can always stumble across something interesting.
On HBO Max, for instance, there are thrillers starring Florence Pugh, horror stories starring Scarlett Johansson, and even a cult classic from the 1990s that helped Brad Pitt become a household name.
Read Also: How Do You Play Roblox Condo Games in 2023?
Have you watched the sexiest movies on any of the other platforms yet? You can now proceed with this one, where you can find premieres of interesting films, original productions, and some masterpieces of the film industry that are worth remembering.
The Sexiest HBO Max Movies you Must See
1. Don't Worry Darling
In this Sexiest movie directed by Olivia Wilde, Florence Pugh, and Harry Styles play the roles of the film's protagonists. The story follows a woman who moves with her husband to a seemingly perfect area in the suburbs, which is part of an experimental community. Once there, she learns that this place is not what it seems and that his life may be in danger.
2. Under the Skin
This is without a doubt one of the sexiest and most intriguing movies that you may ever watch. The narrative of this film, which was helmed by Jonathan Glazer, centers on a mysterious woman who attracts the attention of lonesome men traveling through Scotland and encourages them to accompany her somewhere, only for them to later find out that the destination is not what they had anticipated. It turns out that the woman is actually a traveler from another world who is plotting something terrible for them.
3. Ex_Machina
In this film, starring Alicia Vikander, Domhnall Gleeson, and Oscar Isaac, a computer programmer thinks he's hit the jackpot when he gets the opportunity to spend time with a robot that operates through Artificial Intelligence, in order to determine if the robot is self-aware and if their intelligence can imitate that of humans. The programmer's goal is to determine if the robot's intelligence can imitate that of humans. Soon, he understands that the experiment is not what it seems to be and that there is a significant possibility that things may go horribly wrong.
4. Last Night in Soho
This is the story of a fashion student who travels to London to attend a prestigious school, but while she is there, she discovers a kind of portal to the 1960s, where she lives the story of a mysterious singer. Starring Anya Taylor-Joy and Thomasin McKenzie, the film tells the tale of a fashion student who travels to London to attend a prestigious school. that it appears she was killed, and that the only person who can assist unravel the mystery of her death before it is forgotten entirely is she.
5. The Lover
This story, which is set in 1929 French Indochina and was nominated for an Academy Award for its cinematography, is based on a semi-biographical novel and transports us there. It follows a French teenager as she begins a forbidden romance with an older, wealthy Chinese man, which they are required to keep secret from their families and society. Although the novel and the film tell quite distinct stories and take very different approaches to the subject matter, they are frequently linked to Lolita.
6. Unfaithful
Diane Lane portrays a character in this movie who plays a woman who "accidentally" gets involved in an affair after meeting a stranger on the streets of New York City. She has a husband who loves her, a son who is perfect, and a life that many people would like to have, but there is something she is lacking that causes her to develop an obsession, and eventually she falls into a forbidden relationship that has the potential to destroy everything she has worked for.
7. I know What you did Last Summer
This is an old-school favorite from the nineties. Jennifer Love Hewitt and Sarah Michelle Gellar play the roles of two teenagers who, along with their friends, are involved in a tragic accident on the highway but claim that they do not report it because they believe that no one saw them. Jennifer Love Hewitt and Sarah Michelle Gellar also play the roles of their real-life counterparts. Just when they believed they were safe, they began to get cryptic notes, and they were being pursued by a murderer who knew their secret and threatened to divulge it and make them pay for it.
8. Voyagers
Alongside Colin Farrell and Tye Sheridan, Lily-Rose Depp is one of the stars of this next science fiction film. The events of the novel take place in a distant future, on a space station that is home to a group of researchers as well as a large number of children who were born and reared on the station but have no idea that they are subjects in an experiment. When the truth is revealed, everything begins to spin out of control, and the station is transformed into a situation reminiscent of Lord of the Flies. Depp and her crew are forced to remain concealed from the rest of their friends, who have completely lost their heads.
9. Under the Silver Lake
The narrative of the film directed by David Robert Mitchell is bizarre and fraught with paranoia. One night, Sam discovers an unidentified woman swimming in the pool of the apartment building where he lives. The next morning, she is nowhere to be found, and Sam's search for her quickly becomes his sole preoccupation. Along the way, he uncovers a much stranger scheme.
10. Legends of the Fall
This film starring Brad Pitt is the perfect choice for a movie night with your significant other. The novel Legends of the Fall is set in the early 1900s and follows the lives of three brothers and their father as they make their home on a ranch in Montana. The three brothers were each called to serve their country in the war, and the loss of one of them in combat left the other two brothers grieving. When they got back home, his father was saddened by the loss of his son, and the two that were left ran into a major difficulty when they both fell in love with their deceased brother's fiancée. His father was grieved by the loss of his son, and the two that were left ran into a major dilemma.