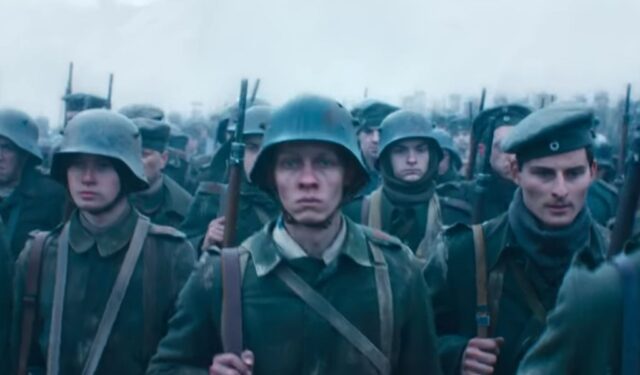 Listen to the Podcast:
War movies are always captivating, perhaps because they are inspired by the real world and, in one way or another, show us the horrors humans can commit when we feel threatened or believe we are doing the right thing for ourselves Countries.
Read More: Succession Season 4
War has fascinated Hollywood for generations, with movies like Wings and the first version of All Quiet on the Western Front becoming huge hits that garnered big awards and accolades at awards like the Oscars (where this year's nominees include a new war movie).
Many of these stories also have the bonus that they lead us to explore real moments, sometimes with fictional stories, like Life is Beautiful, and sometimes by presenting flesh and blood monsters that marked the world with their cruelty and brutality, as is the case with Ralph Fiennes' character in Schindler's List.
Read Also: Chevalier Release Date
Some war movies are big productions with a lot of artistic, social, and cultural value, so it's not uncommon to know that many of them have made it to the Oscars over the years, and those are the best options you can see if you want to explore gender.
The War Movies that were Nominated for an Oscar and you Must See
1. All Quiet on the Western Front – Netflix
Nominated for best film at the 2023 Oscars, this is a new version of the film that won an Oscar in the 1930s and is based on the novel by Erich Maria Remarque, which is a kind of anti-war story where we can witness the most terrible side of the battles from the perspective of a young German soldier who finds himself in the trenches with his companions, where he experiences all kinds of tragedies and violent situations that leave him marked forever.
2. Causeway – Apple Tv+
Jennifer Lawrence and Bryan Tyree Henry star in this film that takes us into a modern-day war context but focuses on what happens when soldiers return to the "real world" after spending time on the battlefield. Here, we follow the story of a soldier who suffers a brain injury in Afghanistan, so she is sent back home, where she must learn to adapt and live an ordinary life while she tries to deal with everything she saw and lived.
3. The Hurt Locker – Prime Video
This film won six Oscars, including best direction and best picture, and is a realistic portrayal of what happens to soldiers after living through a war situation.
Also Read: Reacher Season 2
Jeremy Renner plays a soldier who is an expert in disarming bombs and witnesses the horrors of the war in Iraq. He also shows the difficulties of adapting to "normal" life after having lived through moments marked by violence and death. It is not a true story, but the stories of thousands of soldiers worldwide inspire it.
4. Unbroken – HBO Max
Angelina Jolie directs this movie with Jack O'Connell and Domhnall Gleeson, based on an incredible true story. This is the story of Louis Zamperini, an Olympic athlete who is sent to war and who, after an accident, spends weeks in a prison camp in Japan, where he is subjected to all kinds of torture and abuse that lead him to have to fight to survive and to be able to return home.
5. Schindler's List – HBO Max
Steven Spielberg is the director of this famous war film. The film won seven Oscars and tells the story of a German man who, in the middle of the world war, confronts the Nazis and risks his life by turning his factory into a shelter that he uses to save the lives of hundreds of Jews who, otherwise, would have been sent to concentration camps.
6. Saving Private Ryan – On Demand
Tom Hanks and Matt Damon appear together in this five-time Oscar-winning film directed by Steven Spielberg. Rescuing Private Ryan follows a group of American soldiers who, after landing in Normandy, cross enemy lines and traverse the battlefield to rescue a trapped soldier who lost all his brothers during the war, and helps him come home.
7. Jojo Rabbit – Star+
Taika Waititi directs this film with Scarlett Johansson, who discusses innocence and how children experience war. This is the story of Jojo, a German boy who has Hitler as an imaginary friend and who wants to join the Hitler Youth to "do his duty", While living alone with his mother, he discovers a secret that leads him to realize that things are not as they seem and that the "enemy" they present to him is not so different from him.
8. Casablanca – HBO Max
Starring Humphrey Bogart and Ingrid Bergman,  Casablanca is one of the greatest classics in movie history. It is the story of an American expatriate who owns a cafe in Morocco during a time when the Nazis occupy the city. There, he is visited by a woman from her past who needs her help to escape and save someone in her life who is part of the resistance against the Germans.
9. The Imitation Game – HBO Max
This film with Benedict Cumberbatch is based on an actual event and is a war story that does not take us to the battlefield but to an "office" where intelligence is intended to be used to gain an advantage and stop the Nazis. The film follows Alan Turing, a British mathematician who must find a way to crack the codes the Germans use to communicate to discover their plans and prevent them from winning the war.
Other Oscar-Nominated Best War Movies:
Life is Beautiful
Dunkirk
Braveheart
The Sun's empire
MASH
Sniper
To a man
The thin red line
And 5 Blood
1917
The bridge over the River Kwai