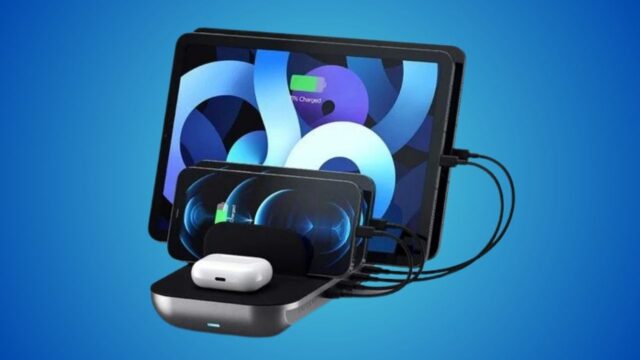 When you've got a bunch of devices with wireless charging capabilities, a simple pad or stand won't do. Here's your quick guide to getting the best multi-device wireless charging station. And trust me, we've scoured the market for you!
Think Long-Term
First, your phone type dictates your charger type. iPhone? You might need Apple Watch compatibility. Android? Think Galaxy Watch. Also, if you're on iPhone 12 or later, MagSafe's magnetic feature is your friend. But always think of the devices you might own in the future. Plan on switching phone brands? Go for a versatile charger. And remember, just because you're an Apple or Samsung loyalist today doesn't mean you'll stay that way forever.
Where's its Home?
Picture where you'll place your charger. Nightstand? Opt for something that doesn't hog all the space. Work desk? Perhaps you'd like an upright stand for easy notification checks. And if you're sharing the charger with someone, go for something universally adaptable.
Performance Matters
Here's a truth bomb: multi-device wireless charging isn't lightning fast. Most top-tier chargers max out at 15W for phones. But if you're just parking your phone overnight, speed might not be your primary concern. Also, remember to ensure your chosen charger is case-friendly.
It's All in the Details
Watch out for the little things. A textured surface can prevent your phone from sliding off, and a stable base means it won't topple over. Also, check what's in the box; sometimes, power adapters or specific mounts aren't included.
Top Recommendations:
1. Best Premium Choice: Belkin BoostCharge Pro 3-in-1 Wireless Charging Pad with MagSafe. This is your go-to if you're Apple-crazy. Works beautifully for iPhones, Apple Watch, and AirPods. But be prepared to spend a bit; it's priced at $150.
2. On a Budget: Anker 533 Wireless Charger. A great 3-in-1 option for less than $60, but you might have to BYOC (Bring Your Own Cable) for the Apple Watch.
3. Just Right: Otterbox 3-in-1 Charging Station for MagSafe. Ideal for nightstands, this charger's compactness is its main charm. It's priced reasonably at $80.
4. Two's Company: Mophie Dual Wireless Charging Pad. Perfect for homes with two phones. It's efficient and priced at $80.
5. For the Team: Mophie 4-in-1 Wireless Charging Mat. Designed with multiple users in mind. A little large, but at $150, it offers more than some of its competitors.
There you have it! Dive into the world of wireless charging with confidence. Remember to consider future device purchases, location, performance, and the little things. Happy charging!
Read Also: iPhone 15 Price Increased By Up To $200!