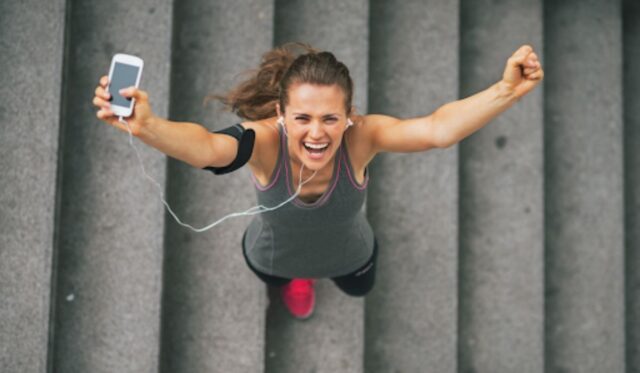 Since the generation of the Apple Watch in 2015, people have become increasingly aware of their health and physical condition. Technological advancements in smartphones, tablets, and wearables have enabled calculating vitals like blood pressure, heart rate, or steps available at the tap of a screen. Users can carry their trainer or nutritionist with them everywhere they go, thanks to a mobile fitness app installed on their smartphone. You may be wondering how to create your own workout app in 2023.
In this short entry, we will discuss what fitness app development is and what the necessary steps are in developing a fitness app (please, see Topflight experience). 
Fitness apps- What the market is saying about this
The rising interest in individual health and wellness has contributed to a very positive market outlook to create a personal trainer fitness app. These applications have seen explosive growth in popularity, supported by wearable devices and cutting-edge features like AI-guided exercises and virtual coaching. 
According to Statista, the Fitness segment generated US$16,857 million in revenue in 2019.

In 2023, the market size is projected to reach US$20,499m, representing a compound yearly growth rate (CAGR) of 5.0% from 2019 to 2023.

In 2023, the market size is expected to gain $3,072m at a compound yearly growth rate (CAGR) of 7.2% in revenues.

Forecasting a global fitness app market worth US$ 14.7 billion by 2026, at a CAGR of 23% from 2019 to 2026.
Costs involved in making fitness apps
For a simple healthcare app, the development of an MVP (minimum viable product) could cost between $25,000 and $30,000. Full-featured fitness product app development prices can vary from $60,000 to $160,000, depending on the necessity of implementing the following features: 
Artificial intelligence/machine learning (for recognizing user motions during workouts).

Support BLE and a variety of hardware connectors.

Incorporate real-time streaming video and audio, etc.
Fitness app development- The mighty steps
The following steps are involved in order to create a gym app: 
Market research and ideation
First, you need to identify which type of fitness application you want to create among these 3 types:
Workout apps
The goal of workout apps is to guide users through effective and efficient workout routines. They have classes for everything from yoga to cardio to strength training. These apps typically include video tutorials, individualized workout plans, and data tracking. 
Fitness tracking apps
Smartphone and wearable device sensors can record data on physical activity, such as steps taken, distance traveled, calories burned, and heart rate. This enables the user to track their progress towards their fitness tracking goals, receive immediate feedback, and analyze recent data.
Nutrition apps
You can use nutrition apps to keep tabs on what you eat, make progress toward your body goals, and get tips on maintaining a healthy diet. Some applications can assist you in planning meals, provide recipes, and even scan food labels to determine their nutritional value. They assist users in maintaining a healthy calorie balance by coordinating with fitness apps.
Features enlisting and blueprint generation
The first step is to make a list of the important functions that the fitness app will provide. This offers features like user profile personalization, activity tracking, social network integration, progress tracking, and notifications. The layout of these elements and their interactions inside the user interface of the app are then outlined in a blueprint.
Custom profile
A custom profile feature allows users to create customized accounts within the application. Users can enter personal information such as their age, gender, weight, and exercise goals. This data is utilized to personalize fitness and nutrition suggestions, making the app's recommendations more relevant to individual users.
Activity tracking
Activity monitoring is a basic feature that uses device sensors or wearables to monitor users' physical activities. It tracks elements such as steps taken, distance traveled, and calories expended during exercises and daily activities. This data allows users to analyze their activity levels and alter their schedules accordingly.
Social media linking
By adding their social media accounts, users can share their fitness achievements and track their improvement with their friends and followers. This feature allows for friendly competition, virtual challenges, and the sharing of accomplishments with friends and followers.
Results and progress tracking
Maintaining motivation requires the constant ability to monitor outcomes and progress. The app should show graphical representations of users' fitness improvements, such as weight loss, muscle gain, or improved stamina. 
Notifications and pop-ups
Notifications and pop-ups keep users interested and informed. The app can deliver reminders for scheduled workouts, daily activity targets, and eating times. It can also provide feedback on completed workouts and reached milestones.
Defining monetization model
You can make money in a variety of ways in health and fitness application development. The following are some potential company options for the future:
Ads based
You can work with other fitness-related companies and let them run ad campaigns inside your fitness app. You can charge a cost-per-click or cost-per-mile commission.
Freemium
Basic software functions are provided without charge to customers. However, premium feature sets need payment. This type of business structure is also referred to as a "premium subscription model."
Partnerships and sponsors
This business plan calls for collaborating with gyms and fitness professionals. Your partners can offer users of your app useful material and use their knowledge to make your app better.
UX/UI wireframes designing
This stage involves creating detailed wireframes that describe the user experience (UX) and user interface (UI) design of the fitness app. Wireframes are visual representations of the app's layout, navigation flow, and interactions. They serve as a roadmap for developers and designers to provide a fluid and user-friendly interface that fits with user demands and expectations.
Application development
In this phase, developers create the app's basic functionality, combining features, databases, and user interfaces. Before moving on to the next level, continuous testing is done to spot and fix any flaws or performance concerns.
Launch, evaluation, and upgradation
In this phase of fitness app development, user input and usage patterns are actively tracked to evaluate the app's performance and customer satisfaction. The app can be updated to improve its features, answer customer queries, and respond to changing market trends based on the information gained. Continuous improvement ensures that the app remains relevant and useful in the long run.
Surely you were amazed and made kindly jealous of the success of Peloton in developing fitness trackers. Then you will definitely be interested in this article: https://topflightapps.com/ideas/how-to-build-a-fitness-tracker-app-like-peloton/.