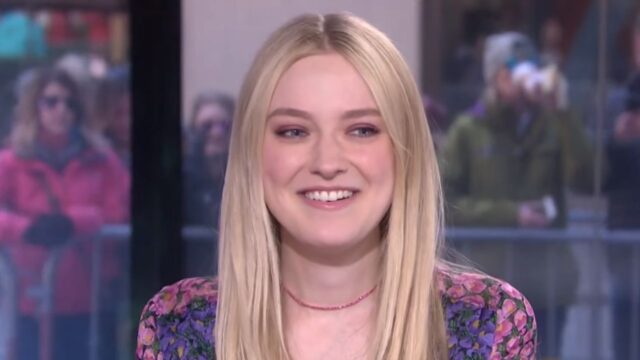 Dakota Fanning embarked on her acting journey with minor roles in series like ER, Ally McBeal, and CSI. However, her major breakthrough arrived in 2001 when, at just 6 years old, she was cast in the film "I Am Sam," sharing the screen with Sean Penn and Michelle Pfeiffer. This role earned her the Best Young Artist award at the Phoenix Film Critics Society Awards, along with widespread acclaim and admiration.
This early success made it evident that this young talent was destined for a promising career, and it seemed likely that she could smoothly transition into more mature roles as she grew up.
Gradually, Fanning's career gained momentum, and she shone in every role she took on. Sometimes, she even shared the screen with legendary actors like Denzel Washington and Tom Cruise. She proved she wasn't a one-hit wonder and wouldn't be one of those child actors who fade away as they grow into adulthood.
Today, she's not only appeared in prominent series, such as "The Alienist" alongside Luke Evans, but she's also part of one of the industry's most formidable sibling duos alongside her sister, Elle Fanning. Furthermore, her career led her back to working with Denzel Washington in the third installment of "The Equalizer."
1. I Am Sam
This emotionally powerful and Oscar-nominated film, one that's sure to bring tears to your eyes, marked a significant turning point in Dakota Fanning's career. In the movie, Fanning portrays a 7-year-old girl being raised by her father, played by Sean Penn, who has a mental disability. Together, they share a heartwarming routine and face the world as a team.
However, their idyllic life takes a drastic turn when authorities decide that Sam (Sean Penn) is unfit to care for his daughter. This forces him into a compelling battle to regain custody of her. Alongside his friends, he must also convince a formidable lawyer that they can create the perfect family to provide a loving and nurturing environment for the young girl.
2. Coraline
This film, based on the novel with the same title, features Dakota Fanning and Terry Hatcher. It received an Oscar nomination for Best Animated Film. The story revolves around a young girl who relocates with her parents to a new house. In this new place, she stumbles upon a tiny door that leads her to a magical world. Here, she encounters an alternate version of her parents and everything she believes will bring her happiness.
However, this enchanting place turns out to be more sinister than it appears. Her other mother is, in reality, a witch who ensnares children. To save herself and her family, the young girl must find a way to defeat this witch and escape from her clutches.
3. Man on Fire
Dakota Fanning had the opportunity to collaborate with Denzel Washington in an action-packed crime film set in Mexico City. The story revolves around a former CIA agent who is enlisted as the bodyguard of a young girl. This girl becomes the target of a ruthless gang of criminals with intentions to destroy her family.
Initially, the agent's motives appear questionable, but as the family faces the grim reality of the situation, they come to realize that he is their best hope. Placing their trust in him, they hope that his exceptional skills can lead them to rescue their daughter and prevent an impending tragedy.
4. War of the Worlds
This film, featuring Tom Cruise, is a contemporary adaptation of the renowned novel by HG Wells. It unfolds against the backdrop of an alien invasion on Earth, where a man finds himself in the harrowing position of safeguarding his family from these unwelcome extraterrestrial visitors. As they navigate a perilous journey to escape the city and seek a secure haven, they confront various dangers and obstacles.
The movie earned three Oscar nominations and offers an intense narrative of survival intertwined with elements of science fiction.
5. Very Good Girls
In this heartfelt drama, Elizabeth Olsen and Dakota Fanning share the screen, portraying two close friends. As they approach their college years, they make a pact to experience a romantic encounter before the school year concludes. However, their plans take an unexpected turn when they both find themselves falling for the same person. This twist puts their pact and their friendship to a challenging test, one that could either fracture their bond or bring them closer together.
6. American Pastoral
This film, directed by Ewan McGregor and featuring Jennifer Connelly and Dakota Fanning, unfolds the story of a quintessential American family living in the 1960s. Initially, their life appears idyllic, with comfort, stable jobs, and a cherished daughter. However, their seemingly perfect world starts to unravel when their daughter becomes an activist, immersing herself in a political movement that escalates into violence and radicalism. This transformation becomes a potential threat to everything the family has worked hard to build.
7. Push
Dakota Fanning adds a superhero movie to her repertoire, starring alongside Chris Evans and Camilla Belle. "Push" tells the story of a group of individuals endowed with telekinetic abilities who live in secrecy, evading a shadowy government organization determined to capture them and harness their powers as weapons. The narrative unfolds in the vibrant backdrop of Hong Kong, where the group embarks on a mission to rescue one of their own. This individual holds the key to ending their persecution and dismantling the organization that has been relentlessly pursuing them.
8. The Runaways
In this musical biopic, Kristen Stewart takes on the lead role. The movie transports us back to the 1970s, immersing us in the tale of The Runaways, the iconic band formed by Joan Jett and Cherie Currie. It delves into the intricate dynamics between these two women, their tumultuous lives marked by excess, and the pivotal moments that catapulted the band to global stardom.
9. Ocean's Eight
Dakota Fanning takes on a minor role in this star-studded film featuring Sandra Bullock, Cate Blanchett, and Rihanna. The story follows the sister of Danny Ocean and her crew. Upon her release from prison, they decide to undertake one final heist, targeting the renowned Met Gala event. Their plan involves orchestrating a robbery amidst the glamour of the gala, using a well-known actress and a designer to create a diversion while they aim to steal a priceless necklace that could potentially net them millions of dollars.
10. The Equalizer 3
Dakota Fanning reunites with Denzel Washington in the third installment of The Equalizer series. In this latest chapter, we encounter Robert McCall leading a tranquil life in Italy. However, his peaceful existence takes a dramatic turn when he learns that his friends have fallen under the sway of a dangerous criminal syndicate. This revelation compels him to abandon his newfound serenity and step back into action to shield his friends. McCall finds himself confronting a formidable mafia that wields control over the city, making for an intense and high-stakes storyline.