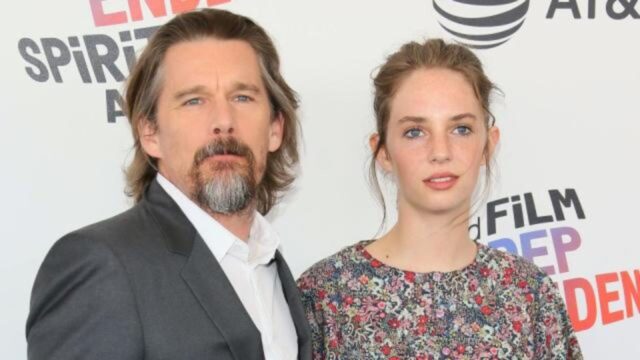 Maya and Ethan Hawke are talking up about their experiences as one of Hollywood's most well-known father-daughter duos.
Ethan is presently promoting his new film, Wildcat, with his 25-year-old daughter Maya, whom he has with his ex, Uma Thurman.
Ethan directed the independent film, which stars Maya as the late American novelist Flannery O'Connor as she attempts to get her first work published.
Despite the fact that the film's plot was her idea, Maya recently said that she was concerned about working with her father on the movie because of the continuing issue around nepotism in show industry.
"I had moments of insecurity about it while we were shooting the movie," Maya admitted to Variety in a joint interview with her father. "But the internet doesn't have a lot of nuances."
"My dad has been a huge teacher for me, and we want to work together," she said, praising Ethan. We enjoy spending time together."
In response, Ethan defended his daughter, joking that he's a "nepo dad" because it was Maya who came up with the idea for the film. Additionally, you can also read about- The Shawshank Redemption: The Most Intriguing Facts You Didn't Know
"If someone wants to criticize us for working together, that's totally fair," he remarked. "You have to give individuals a chance to express themselves. You just have to try your hardest when you're onstage."
Maya reflected on the filming process, remarking that it wasn't the "cute father-daughter thing" as people might expect, instead stating that "production's demands were high."
In addition, she quipped that she made a brief attempt on set to start addressing her father by his first name in order to appear more "professional" to those around them.
"And then I realized it was actually more distracting to people," she said. "'Why are you doing that?' they'd ask." So I mainly addressed him as 'Dad.'"
Maya has a number of minor roles as characters in O'Connor's short stories in the film, which premiered at this year's Toronto Film Festival. Maya is required to participate in sex scenes while playing two of those personas.
The only problem was that the scenes were directed by her father, which, as you can guess, may have been awkward for both sides.
This was not the case for Maya and Ethan, who remembered it being stranger for their coworkers than it was for them.
Read Also: Rotten Tomatoes Under Investigation After Payola Scheme Allegations
"We needed to take care of Rafael and Cooper," Ethan remarked of Maya's co-stars Rafael Casal and Cooper Hoffman. "I believe it was strange for them. We were really at ease with it. "I couldn't give a damn."
Maya responded by joking that they had an intimacy coordinator on site for her co-stars "so they felt safe and comfortable," and "not like they were being spied on" by "some creepy dad," as Ethan put it.