Handmaid's Tale Season 6 will be final installment and here's what you need to know. After years of dystopia, The Handmaid's Tale, the finest drama on Hulu, is coming to an end.
What is The Handmaid's Tale Season 6 Release Date?
The 2017 release of The Handmaid's Tale, based on the Margaret Atwood novel of the same name, captivated audiences with its disturbingly timely themes. Now, six years later, the show is drawing to a close its dystopian story of abuse and power.
The Handmaid's Tale followed June, also known as Offred, as she found herself living in a radicalized world where women are considered property and the majority of humanity has lost the ability to reproduce. Since then, the protagonists of one of the greatest dramas on television have endured hell and back to fight for their freedom.
READ MORE: Barbie Release Date, Cast, Plot, Trailer and What to Expect
What can we anticipate from the most recent and final season of the Hulu series, which is now so bleak that it could be considered one of the best horror shows? Here is everything we know about the release date, cast, and narrative of The Handmaid's Tale season 6.
The Handmaid's Tale Season 6 Cast Speculation
We would expect Elisabeth Moss and the majority of the primary cast to return for The Handmaid's Tale season 6, as it is the finale.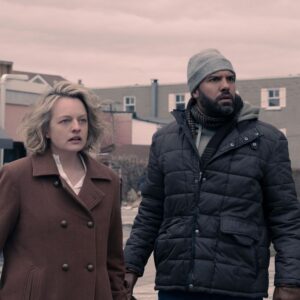 Alexis Bledel will not return to the show after her screen time was reduced in season four and she was written out of the show entirely in season five, as has been confirmed.
Expected The Handmaid's Tale Season 6 Cast List:
Elisabeth Moss as June Osborne
Yvonne Strahovski as Serena Waterford
Madeline Brewer as Janine
Ann Dowd as Aunt Lydia
O-T Fagbenle as Luke
Max Minghella as Nick
Samira Wiley as Moira
Bradley Whitford as Commander Lawrence
Amanda Brugel as Rita
The Handmaid's Tale Season 6 Latest News
Since its debut on Hulu in 2017, Bruce Miller has served as the showrunner for The Handmaid's Tale. However, after five seasons of work on the program, Miller is leaving his position as showrunner. Miller will do so in order to concentrate on a new series set in the world of The Handmaid's Tale. He is also the showrunner for Testaments, a sequel series that has been in development since 2019 and is scheduled to premiere in 2020.
ALSO READ: 30 Best ChatGPT Alternatives with Features in 2023
Eric Tuchman and Yahlin Chang will assume the role of showrunners for The Handmaid's Tale's sixth season. Since the show's first season, Tuchman has been a co-executive producer and has written several episodes. Chang has served as a co-executive producer and writer since the second season.
The Handmaid's Tale Season 6 is Confirmed
Shortly before the premiere of season 5, Hulu officially renewed The Handmaid's Tale for a sixth season. Since its debut in 2017, the show has been one of the streaming service's most popular, so a renewal at this juncture is not unexpected. It is evident from the conclusion of The Handmaid's Tale season 5 that the show has more story to tell, so its cancellation would have been a significant surprise. Hulu and showrunner Bruce Miller appear extremely enthusiastic about continuing this intense narrative. Miller stated as much regarding season 6 in a comment.
Is There a Trailer for Season 6 of The Handmaid's Tale?
There is currently no trailer for Season 6 of The Handmaid's Tale. Nevertheless, based on the release dates of previous seasons' trailers and the production schedule for Season 6, we can speculate that the highly anticipated video will be released in late 2023 or early 2024. Remember to check this page to be the first to know when the trailer is released.
With Season 6, The Handmaid's Tale Will Come to an End?
Despite being renewed, The Handmaid's Tale season 6 updates reveal that it will be the final installment. This was confirmed simultaneously with its recovery. The Hulu program has already surpassed its source material, and with June approaching in Canada, the end appeared imminent. Even though there are still some intriguing storylines set up for season 6, it makes sense for the show to end at that point, as it is difficult to envision The Handmaid's Tale being extended further.
How many episodes will comprise The Handmaid's Tale Season 6?
We anticipate season six of The Handmaid's Tale to comprise of ten episodes. This would be consistent with the show's format, as all seasons (aside from 2 and 3) have contained 10 episodes. Unless, of course, they decide to surprise us with additional items. You know, for dramatic effect.
ALSO READ: Loki Season 2: Release Date, Trailer, Cast and More
If that isn't enough to tide you over until the show's return, learn more about the following. One sequence in the Handmaid's Tale season 5 finale featured 500 extras. Check out our guides on the best Succession characters, the House of the Dragon season 2 release date, and the Yellowstone 6666 release date for more information on the finest television series.
Or, for larger screens, be sure to check out all the excellent new films releasing this year, such as the Barbie movie release date and the Oppenheimer movie release date.
What is The Handmaid's Tale Plot?
The Handmaid's Tale is a dystopian television series that explores oppression, religious extremism, feminism, and rebellion. In the near future, June Osborne (Elisabeth Moss) struggles to survive under Gilead's (formerly North America's) ruthless regime. In a world where fertility rates have fallen precipitously as a result of environmental pollution and sexually transmitted diseases, an extremist group known as the Sons of Jacob disseminate their new world order across the dwindling nation like a poison. As soon as the Sons of Jacob overthrew Congress and seized absolute power, they began to "sort" women into various roles.
READ ALSO: 15 Best Vin Diesel Movies [Where to Watch]
Our protagonist June is a Handmaid, and we first encounter her in the home of Commander Fred Waterford (Joseph Fiennes) and his wife Serena (Yvonne Strahovski). June, along with every other Handmaid in Gilead, is required to perform a monthly ceremony in which she and her Commander have intercourse in order to conceive a child for him and his wife.
Who Are the Creators of The Handmaid's Tale?
The Handmaid's Tale was adapted for television by Bruce Miller (The 100), who also functions as showrunner, based on Margaret Atwood's best-selling dystopian novel of the same name. Miller is joined by Warren Littlefield (Fargo), Elisabeth Moss, Daniel Wilson, Fran Sears, Yahlin Chang, Rachel Shukert, Sheila Hockin, John Weber, Frank Siracusa, Steve Stark, Kim Todd, and Eric Tuchman (Anastasia) as executive producers. The series is produced by MGM Television and distributed in the United States by Hulu. It has already been verified that MGM and Hulu will once again collaborate to adapt The Testaments, the sequel to Atwood's The Handmaid's Tale, for television.
When Is The Handmaid's Tale Season 6 Filming?
In a February 2023 interview, Bradley Whitford, who portrays the master of one-liners Commander Lawrence, was asked if production had begun on the show's final season. He disclosed that he had "just heard [filming] will not begin until August." Previous seasons of the show have been produced in roughly five to six months, so we can presumably anticipate a similar schedule for Season 6.