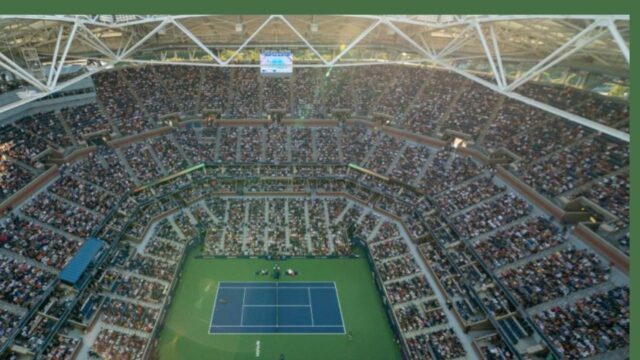 As torrential rain and extreme weather dominate the news cycle in the Northeast on Friday, another bizarre New York City headline has piqued the interest of tennis fans:
The world's largest arena, Arthur Ashe Stadium, looks to be sinking.
According to studies, the entire city of New York is sinking at a rate of around 1.6 millimeters per year on average. However, the subsidence has been determined to be far worse in two northern Queens neighborhoods: LaGuardia Airport and Arthur Ashe Stadium.
The vast tennis stadium is sinking roughly three times faster than the rest of the city, according to studies published in Science Magazine on Wednesday—about 4.1 millimeters every year.
As a result, Arthur Ashe Stadium is a "hotspot" among the areas studied by NASA's Jet Propulsion Laboratory and Rutgers University's Department of Earth and Planetary Sciences.
While the data may appear concerning, the fact that the stadium is sinking is not surprising given the area's history. The ground, which was once covered by a glacier thousands of years ago, is subject to glacial isostatic adjustment, which means it will naturally recede over time.
The Billie Jean King National Tennis Center was constructed on reclaimed marshland that was formerly used as a landfill—this sort of land is notoriously prone to sinking, with similar occurrences occurring all over the world.
Concerns about the land beneath Arthur Ashe Stadium were raised throughout the development of its retractable roof, which was finally unveiled in 2016. After the men's final was rain-delayed to Monday for five years in a row, the US Open became the last Grand Slam to feature a retractable roof. Additionally, you can also read about- Who is Alex Michelsen? The New Threat of Carlos Alcaraz
The approach was dubbed a "triumph of engineering": because the new roof could not be built on top of Arthur Ashe Stadium, it was built as a separate structure around the existing arena. It was supposed to be the lightest roof in the sport, made of Teflon and supported by steel columns, in order to relieve pressure from the surrounding ground. In 2018, a second roof was built over nearby Louis Armstrong Stadium.
Even the most advanced technological displays couldn't stop nature from taking its course.
The good news is that the sinking earth is not caused by climate change or recent extreme weather, but it will render the area more vulnerable when sea levels rise.
Read More: 125 Best Alternatives to Streameast for Watching Sports in 2023