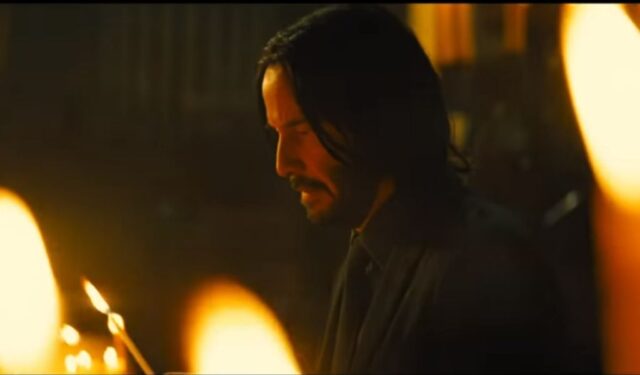 Listen to the Podcast:
John Wick is already one of the best action sagas of all time and one of Keanu Reeves' best projects, and it still has two more movies to go and a spin-off series that will take place at The Continental, the incredible hotel for criminals where the hitman gets his weapons and his suits tailored.
Unsurprisingly, John Wick: Chapter Three was explosive, brutal, and exciting, and that third film left Wick in a difficult position: once again, a hunted fugitive with a bounty on his head, but now in an alliance with the Bowery King. Which makes it even more lethal.
That ending made it clear that a fourth movie was on the way, and it wasn't long before the studio confirmed the suspicions, also revealing that the plan was to make 5 movies in total (and the fourth was announced around the same time it was released). Revealed that Reeves would also be starring in a new Matrix movie, which brought back some original characters from the Wachowski saga).
The Trailer
After months of waiting, the first trailer was revealed during San Diego Comic-Con, where we can see Keanu Reeves back in action, ready to face The Table and the assassins chasing him to kill him.
"No one can kill everyone," they tell him in the video initially shared by The Hollywood Reporter, but Wick is determined to do whatever it takes to save his life.
This is the final trailer for John Wick: Chapter 4.
First images of John Wick 4
View this post on Instagram
Lionsgate confirmed that John Wick 4 was on the way with a first photo where we can see Wick in a place full of candles, which could be a church where he asks for asylum or some mysterious and hidden place where he meets with his friends. Allies.
John Wick 4: Hagakure?
The actor Shamier Anderson, one of the newcomers to the world of John Wick, shared a series of photos confirming the end of filming. Among them, we can see a script signed by several of the actors and a backpack that says John Wick 4: Hagakure, which has many thinking that it is the title of the fourth installment.
Hagakure means "hidden by the leaves" and refers to a practical and spiritual guide for a warrior. "The book compiles the words of the samurai Yamamoto Tsunetomo, who was a former ruler of a part of Japan," according to Collider.
That's not confirmed to be the official title, but it appears on the kits the team was given and could be a reference to the path John Wick must follow now that there's a price on his head.
What's going on with John Wick 4?
#KeanuReeves is spotted in #Berlin ahead of #JohnWick4 filming https://t.co/P0dEY4uDSk via @DailyMailCeleb

— Fãs de Keanu Reeves (@FadeKeanuReeves) April 3, 2021
As the pandemic put cinema on hold for an entire year, filming for John Wick 4 was delayed, and its proposed release date had to be scrapped. Still, a new photo shared a few months ago, confirms that Keanu Reeves was already on the film set and that the project was already winding down.
According to reports, the 56-year-old actor arrived at the Potsdam Babelsberg studios in Berlin in early April last year, but this doesn't mean John Wick 4, so it's likely we'll be able to see more details or even a hint. Trailer soon.
Part of John Wick 4
Keanu Reeves was the first to confirm he would return as John Wick, but he's not the only actor we'll see. Laurence Fishburne returns as the Bowery King.
There's Ian McShane as Winston, advance Reddick returns as Charon from The Continental Hotel, and the film will feature new characters who will become allies or enemies of Wick during the battle that will run into a fifth film.
As more details are revealed, The Hollywood Reporter reported that Bill Skarsgard (Pennywise in the It remake) had joined the cast (his character is Marquis). However, it is not yet known if he will be an ally or an enemy to Wick, who no longer has the protection of the international organization of assassins that supported him. 
Skarsgard will also appear in Naked Singularity with John Boyega and Olivia Cooke. In the period thriller Emperorned, the cast (his character is called Marquis).
However, it is not yet known if he will be an ally or an enemy to Wick, who no longer has the protection of the international organization of assassins that supported him.
Skarsgard will also appear in Naked Singularity, with John Boyega and Olivia Cooke, and in the period thriller Emperor. Shamier Anderson (who appeared in Netflix's Stowaway) is another newcomer to the series, with a character named Tracker and Rina Sawayama as Akira.
Hiroyuki Sanada, from Mortal Kombat and Army of the Dead, is Shimazu, Scott Adkins is Killa, and Clancy Brown also appears on the list (the actor told Collider his character would help reveal more details of the High Table). Additionally, Rogue One's Donnie Yen is said to be playing an old friend of John Wick's.
In addition, there is talk of another spinoff based on the dancers' story that we could see in the third film.
What is John Wick 4 about?
We know that Parabellum ended with Wick having to go on the run, being banned from The Continental Hotel (which we'll be able to explore further in his series), and finding out that Winston had betrayed him, so now he has to fight for his life and gather his few remaining allies to end all this once and for all, but we don't know where this new story is going to take him.
Chad Stahelski, the film's director, told Collider, "We came up with an idea or a theme [plan], and it was massive. So, we're talking about doing a little more than [John Wick 4], or something like that, and trying to develop that."
He told the outlet, "I'm in a happy place where we're in development… we're in a place where we know what we want to do and where we want to do it."
oops… pic.twitter.com/O8mFMTjrK8

— lionsgate (@Lionsgate) April 1, 2021
When is John Wick 4 released?
The release date of John Wick 4—also known as John Wick: Chapter 4—is March 23, 2023. His arrival was delayed due to the coronavirus pandemic.