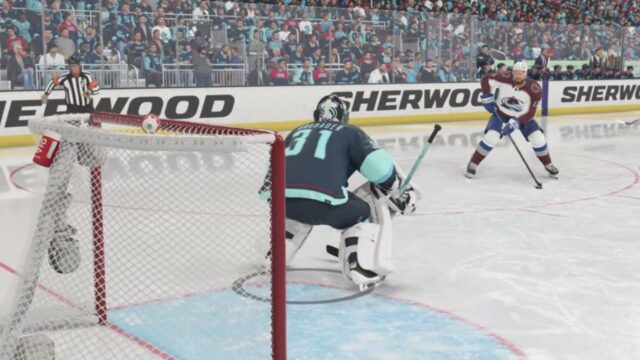 As fall arrives, so does the annual release of the new NHL game from EA Sports, NHL 24. This installment doesn't promise any major revolutions for the long-standing sports game series, and it lives up to that expectation. EA Sports has introduced a handful of new features, with varying degrees of welcome, and made the anticipated adjustments to NHL 24 player ratings. However, beyond these updates, NHL 24 largely feels like a refined version of more of the same.
Read More: Is Arthur Ashe Stadium Sinking Soon?
The most significant addition in NHL 24 is the Exhaust Engine, which encompasses two key elements: Sustained Pressure and Goalie Fatigue. These features have their merits, but they also come with some mixed feelings. Sustained Pressure offers an attacking team a boost when they are in the opponent's pressure zone, typically near the goal. In response, the defending team tends to perform poorly under pressure. Goalie Fatigue, on the other hand, simulates a goalie's decreasing efficiency as they face multiple shots in a short span.
In theory, these additions are intriguing, but they could benefit from some balance adjustments. At times, the attacking team can overpower defenders too easily in the pressure zone, leading to imbalances, and the corresponding buffs and debuffs often result in the goalie wearing down quickly, leaving the goal vulnerable.
NHL 24 brings improvements to Goalie Instinct, making it easier for goalkeepers to block more shots. However, even with these enhancements, defending goalies tend to wear down relatively quickly. While the meter for fatigue builds up slowly, there are still frustrating moments, especially when playing against AI opponents. It's reasonable to assume that this could become even more vexing in online matches, where some players may find ways to exploit the system to their advantage.
Read Also: Celebrities with Most Followers on Instagram
The logic behind the system also raises questions. While it's understandable that a goalie would tire after facing a barrage of shots, it seems somewhat unrealistic to assume that all defenders would perform poorly under pressure. Furthermore, it's worth considering that the attacking team might also experience fatigue or frustration after prolonged pressure in the opponent's zone without scoring. The system could benefit from more nuance, such as different timers or a broader range of buffs, debuffs, and conditions that trigger them.
Another notable change in this year's EA NHL game is the physics system, though its impact is somewhat mixed in my experience. Successfully executing checks now demands better timing and more skill, which adds a satisfying dimension to the gameplay. While the checks may not result in dramatic scenes of players flying and glass shattering, they do enhance the overall checking experience. Stamina and momentum also play a more significant role in determining your success or failure, introducing an additional layer of strategic depth, even if it's not exceptionally intricate.
The focus on purchasing HUT (Hockey Ultimate Team) cards and the monetization of online gameplay remains unchanged, which can be a bit off-putting for some players. While it's not entirely a "pay-to-win" scenario, similar to FIFA and Madden, if you come up against an opponent with exceptionally good luck or deep pockets, you may find yourself at a disadvantage.
One notable change is the replacement of hockey bags with the World of Chel Battle Pass. As someone who plays quite a few live-service games, I must admit I'm experiencing some "battle pass burnout." The idea of grinding through numerous tiers doesn't particularly appeal to me. However, it is an improvement to move away from random loot grabs and instead offer transparent rewards for a flat fee. NHL 24 also introduces more ways to earn rewards through the battle pass and other challenges, which can be a positive aspect for players.
One of the new ways to enjoy NHL 24 is through HUT Moments, offering a refreshing break from the usual career mode and quickplay matches. These moments immerse you in key games from NHL history and even let you recreate recent headline scenes. This concept is akin to what Visual Concepts and 2K have been doing for years in the NBA 2K series, including the more recent Kobe Bryant-themed Mamba Moments. The inclusion of modern NHL matches and moments adds depth and strengthens the connection between the game, you, and the sport in its current state.
You Can Read: Most Valuable Football Clubs in the World
In terms of visuals, there are the typical minor improvements, and a significant highlight is the full crossplay implementation by EA Sports. Vision passing has been introduced to make passing easier, although in fast-paced matches, you might not always benefit from player tags and icons.
There's also the option to fire coaches in franchise mode, which is a noteworthy addition. However, apart from these changes, most existing modes, including franchise mode, have remained largely unchanged. HUT Moments stands out as the only entirely new mode this year. NHL 24 is undoubtedly a solid addition to the series, despite some balance issues, but it seems like it might be time for a more substantial and ambitious overhaul.
7 out of 10 points
8 out of 10 for visuals
Not Specified
7 out of 10 for mechanics
7/10 for soundness