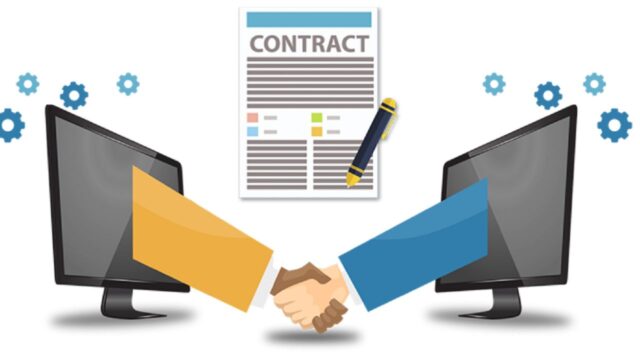 Listen to the Podcast:
The global market of smart contracts is expected to reach $1460 Million (Report By Yahoo Finance). But why is this technology getting that attention? In this guide to smart contracts developers for hire, we talk about smart contracts and their developers in detail.
Smart contracts are all about versatility and convenience. In the world of blockchain, smart contracts are playing an important role, allowing businesses to automate their workflow. See, automation is something that every business should have in this race in order to compete with time, money, and competitors.
If done right, smart contracts can change various industries ranging from trade and finance to e-commerce, real estate, and gaming.
In order to make it possible, you have to hire a smart contract developer. This is where we come in. The blog enlists details about the possibilities/benefits that come with smart contracts. Apart from that, there is a detailed section on what a perfect smart contract developer is. Hold your horses and read this until the end.
Smart Contract Developers- Short Brief on These Nerds
Smart contract developers are people who specialize in creating digital contracts that are self-executing, enabling them to enforce the rules of a particular agreement. The developers have profound knowledge of Solidity that is used to create such contracts using the Ethereum blockchain. Moreover, the developers are also familiar with underlying blockchain tech that includes the working of decentralized networks, storage, and consensus mechanisms.
Talking about the role of these developers, they create and design smart contracts, ensuring that the contracts are functioning as they are intended. The developers collaborate with other blockchain engineers to integrate smart contracts into the system. Not only that, if you hire a smart contract programmer, he will make sure that the code is free from bugs, as the contract is immutable once deployed.
The bottom line is smart contract developers for hire play an important part in the blockchain world, allowing them to underpin the technicalities in the system.
Benefits that Come Along with Smart Contract Development
Smart contracts provide state-of-the-art benefits to a wide range of industries, allowing them to maximize the efficiency output. Below mentioned are some of the benefits that come with this tech stack.
Fast execution with errors
Smart contracts are self-executing since they are automatic processes. With this, there is no need for additional control or validation. Moreover, there is no human activity involved, and the chances of errors are at a minimum.
Pinpoint execution
Traditional contracts are a liability because there are human errors involved. However, that is not the case with smart contracts. If you hire a smart contract coder, and he/she builds the contract the right way, the execution will be pinpoint.
Transparent transactions
As of this date, blockchain technology is the most transparent one that the tech world has to offer. No bureaucracy is involved, no central organization is controlling it, and every party knows who is involved in the transaction.
Security at its peak
The reason businesses are inclined towards smart contracts is that they are blockchain-based. Since blockchain is a robust technology, it enables businesses to prevent data leaks and penetration. Hence, smart contracts offer the top high-level security.
Cost-effective
As mentioned above, smart contracts are self-executory, meaning no third party is involved once the contracts have been deployed. That leads to you paying little to no additional costs. If you do a great job to hire a smart contract coder, you will save money.
Hey, all of this is possible if you take the right steps in hiring a team of smart contract developers. Moreover, the benefits of smart contracts are industry limited, meaning they can be more or less depending on your niche type.
Smart contract developers for hire- The Perfect Portfolio
To hire a smart contract developer, it is essential to understand the roles he should play. This section enlists the roles/skills a developer should have. The reason for giving this section is that if you think a developer matches these points, you should hire him/her immediately.
Smart contract development
First, your developer should be able to create and deploy smart contracts using Solidity and other blockchain-based tools. The developer should have knowledge of all crypto technologies and should be able to implement entities like games, smart contracts platforms, and electronic wallets.
Contract auditing
If you want to hire a smart contract coder, chances are you have already developed an MVP of the smart contract. Your developer should be able to audit that contract and troubleshoot it accordingly.
Knowledge of dApps and dApps smart contracts
dApps (Decentralized Apps) are the most robust and efficient form of apps that offer speed and integrity. Your perfect developer will have knowledge of this entity. Apart from that, the coder will possess the mastery of integrating smart contracts into the dApps.
Optimization
Smart contracts do the best work when they are perfectly optimized. Your smart contract developers should be able to optimize the contract for better efficiency and execution.
So, this is our take on the best smart contract developers. We hope that this definitive guide will help you in landing your best smart contract developers for hire. Without wasting another time, go out there and see if the developer matches these points.