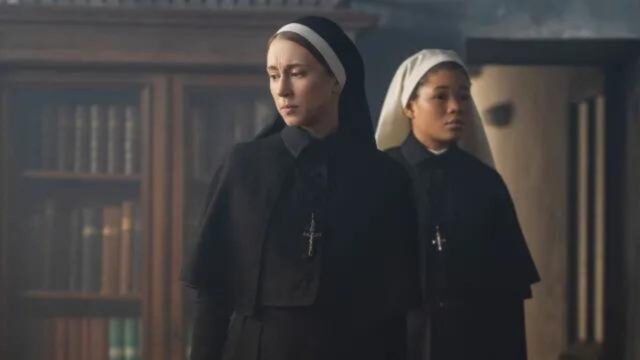 Bad reviews, like many horror films before it, did not deter spectators from purchasing tickets for "The Nun II." The sequel to the 2018 hit earned an estimated $32.6 million in its debut weekend in North American theaters.
USA TODAY's Brian Truitt termed it "a significant improvement over the first 'Nun,'" but ranked it seventh out of nine "Conjuring" films, and viewers awarded it a C+ on CinemaScore. It doesn't matter: horror is possibly the most critic-proof genre, at least on opening weekend.
The sequel, directed by Michael Graves and starring Taissa Farmiga and Storm Reid, fell far short of the first film's opening ($53.8 million), but it's still a decent start. The "The Nun" films are part of the "Conjuring" universe, which has grossed $2.1 billion at the box office. The sequel also performed well abroad, earning $52.7 million from 69 territories (with Mexico leading the way with $8.9 million), bringing its global debut to $85.3 million.
"Having a horror universe is really powerful in terms of revenue-generating potential," says Comscore senior media analyst Paul Dergarabedian. "It's a great bet that (Warner Bros.) made on the horror moviegoing experience never waning."
There are many more scary movies coming out this fall, like "Saw X" on September 29 and "The Exorcist: Believer" on October 6.
"The Nun II" dethroned Denzel Washington's "Equalizer 3" in its second weekend. "Equalizer" earned an additional $12.1 million, increasing its domestic total to $61.9 million and its worldwide total to $107.7 million.
Read More: The Nun 2: Everything about the Horror Movie Sequel
Another new picture took third place: the third part of Nia Vardalos' "My Big Fat Greek Wedding," which debuts 21 years after the first film became a big sleeper hit, earning $369 million on a $5 million production budget. The third picture earned an estimated $10 million, primarily from female audiences (71%) and those aged 25 and up (83%).
Vardalos created, directed, and stars in "Greek Wedding 3," in which John Corbett returns and the gang travels to Greece. Jocelyn Noveck of the Associated Press commented in her review that the film is "like a thrice-warmed piece of baklava."
"Jawan," an Indian vengeance thriller starring Shah Rukh Khan, debuted in fourth place with $6.2 million from only 813 theaters. It was made available in Hindi, Tamil, and Telugu. Khan, a Bollywood celebrity, also starred in "Pathaan," which grossed $130 million globally this year.
"Barbie," which will be available on demand on Tuesday, fell to fifth place with $5.9 million following eight weeks at the top. The film has now grossed $620.5 million in the United States.
The final figures are due on Monday.