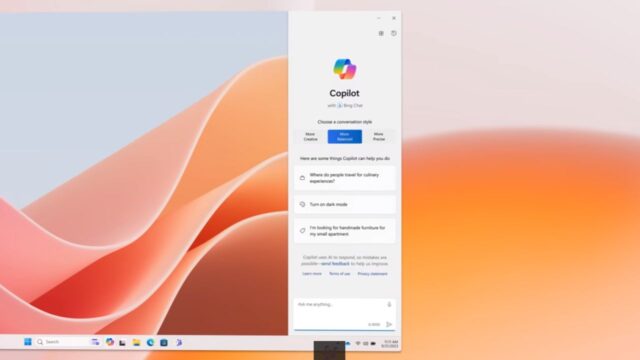 Microsoft has confirmed it will expand availability of its AI-powered Copilot assistant to include Windows 10 PCs in the coming months. Copilot will gradually roll out to Windows 10 systems enrolled in Microsoft's Insider early-access program.
Copilot first launched in September 2022 exclusively for Windows 11. It provides an AI chatbot to assist users with tasks through natural conversation. Copilot is now enabled by default on Windows 11 2022 Update devices.
Bringing Copilot to Windows 10 will significantly widen its accessible user base, as Windows 10 still retains majority market share. Expanding to Windows 10 marks a major step in Copilot's proliferation.
Opt-In Preview Testing Starting with Insider Program
Initially, Copilot previews for Windows 10 will only be available to Windows Insiders on the Release Preview Channel running Windows 10 2022 Update. This opt-in program will enable early testing and feedback.
Read More: Apple New Macs M3 Chip Launch Rumors
After enrolling in the Insider program, users can check for updates to gain preview access to Copilot. The preview will then gradually roll out over several months.
Home and Unmanaged Pro Users First to Gain Access
The first Windows 10 users able to access Copilot previews will be those running Home and unmanaged Pro editions. Enterprise and Education editions won't be included in the initial early testing.
Limiting availability allows controlled evaluation by consumers and small businesses before expanding to large organizations. Users can provide input to improve Copilot before full production rollout.
Docked Desktop Chatbot Interface Similar to Windows 11
The Windows 10 Copilot interface resembles the Windows 11 version. Users can dock the chatbot window on the desktop for easy access. They can type queries or use voice commands enabled by clicking the microphone icon.
However, not all Windows 11 Copilot functionality will be present initially. For example, Windows 10 users won't be able to open apps with Copilot or customize preferences. Capabilities will remain limited during the preview period.
Phased Geographic Availability Over Coming Months
Microsoft says Copilot's preview launch on Windows 10 will start in select markets including North America, Asia, and South America. Additional markets will be added gradually over time.
The company wants to scale availability judiciously to gather sufficient feedback in early regions before expanding globally. The gradual rollout may take many months to complete.
Enterprise Admins Can Prepare for Eventual Arrival
While larger organizations won't see Copilot right away, IT admins can start planning by reviewing Microsoft's guidance for managing Windows 10 Copilot deployments.
Laying the groundwork for Copilot will smooth eventual rollout to managed Windows 10 desktops when general availability for Enterprise approaches.
Copilot's Windows 10 support will mark a major milestone in bringing AI assistance to Microsoft's vast 1 billion-plus devices ecosystem. Broadening availability is key to making Copilot a ubiquitous Windows experience.