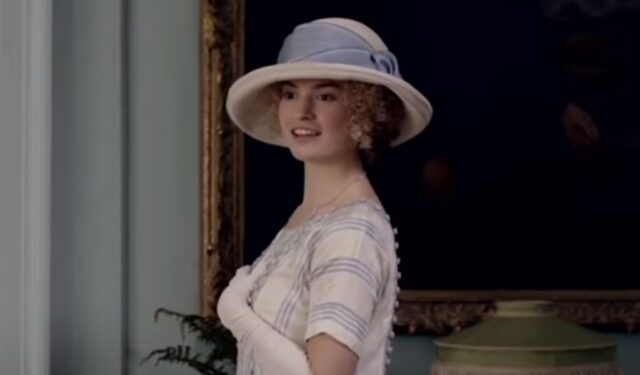 Listen to the Podcast:
Lily James is one of the British actresses to keep on your radar and has already appeared in great movies and series that suggest that we will see much more of her in the future.
The Emmy nominee surprised the entire world with her incredible transformation as Pamela Anderson for the Pam & Tommy series (based on the true story of her stolen sex tape scandal). Still, before that, she was already making waves, thanks to being transformed into a flesh and blood Disney plus princess, a zombie hunter, and the partner of a getaway driver who had to fight to escape his life marked by crime.
Lily James is an expert in comedies and romantic movies. Still, we've also seen her in dramatic stories and even suspense, so we can say that she's done a bit of everything, and she's not afraid to try new things, and that's why she's had such an exciting career.
Read More: Best Series of Richard Madden
In addition, she has a special presence on the screen, which means that you cannot stop watching her and that the world is attentive to what is next for her, and you only have to see some of her films to confirm all this.
Lily James and her Best Movies
1. Baby Driver – Netflix
Ansel Elgort, Eiza González, and James McAvoy appear together in this Edgar Wright film, where we follow the story of an expert driver who helps criminals escape crime scenes. But, when he decides to leave that life behind, he is given one last mission that he must finish to earn his freedom, which depends on a powerful man who could destroy him if he doesn't do as he tells him.
2. Little Woods – Prime Video
Lily James and Tessa Thompson appear together in this crime mystery film. Little Woods takes place in rural North Dakota, where two sisters must do everything they can to protect their home and pay off their debts after their mother dies, leaving them unprotected and at significant risk of losing everything they have.
3. The Dig – Netflix
This movie with Carey Mulligan and Ralph Fiennes is based on a true story (with some drama and romance). 
Read Alos: New Movies and Series in March 2023
The Dig is the story of a woman who hires an archaeologist to excavate a series of mountains found on her land, where they end up making an important discovery that changes history and what was known about ancient humans, and that draws the attention of the most important museums in the world.
4. Pride and Prejudice and Zombies – Netflix
This film is based on the novel that starts with Pride and Prejudice by Jane Austen and adds some zombies. The story follows the Bennet sisters, who must not only find good husbands but are also expert zombie-hunting warriors who use their skills to protect society when the dead rise from their graves and start to haunt everyone.
5. Cinderella – Disney+
Lily James and Cate Blanchett appear together in this film, the live-action version of the Disney classic. Here, we see James as Cinderella, who is oppressed by her cruel stepmother and sisters, who decide to make her their servant after the death of their father. Still, everything starts to change when she meets a stranger and receives an invitation to an important ball that can lead her to achieve the life she wants.
6. Mamma Mia! Here We Go Again – On Demand
The sequel to Mamma Mia takes place five years after the first when Sophie is preparing to reopen her hotel. While that happens, she begins to find things that lead her to discover more about her mother's life, what led her to that place, and her story with the three men who were the candidates from whom she could come out. Her father.
7. Rebecca-Netflix
Based on the novel that Alfred Hitchcock used for one of his most famous films, Rebecca tells the story of a woman who falls in love with and marries an enigmatic stranger. But everything changes when she is convinced that something strange happened with her previous wife and that her ghost is haunting her and wants to destroy her.
8. The Guernsey Literary and Potato Peel Society – Netflix
This film takes place just after World War II when a writer travels to a small island where she intends to write a book about that community's experience during the war. There, she ends up bonding with the locals and understanding more about who they are and why they live the way they do. James stars alongside Jessica Brown Findlay and Michiel Huisman.
9. Darkest Hour – Prime Video
This two-time Oscar-winning film stars Gary Oldman, James Franco, and Kristin Scott Thomas. Darkest Hour is based on actual events and takes place in the 1940s when Winston Churchill becomes an essential character in the framework of World War II and must decide whether to start negotiating with Hitler or if they join a war that could be devastating to their country and the world if they lose it.
Also Read:
10. Burnt
In Burnt, directed by John Wells, Bradley Cooper plays Adam Jones, a moody Parisian chef who has to start over after his drug-fueled antics end his cooking career. Sienna Miller, Omar Sy, Alicia Vikander, and Daniel Brühl are also in Burnt, but Lily James's role as Sara is just a cameo. This is a shame since Cinderella, a Disney star, came right after Burnt. But maybe it's best that James isn't to blame for this food comedy that not many people have seen.