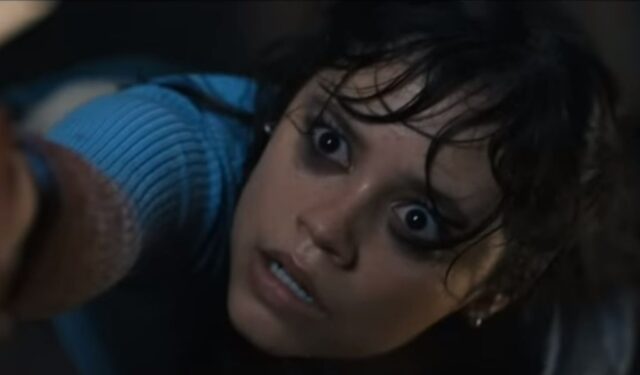 Listen to the Podcast:
We have a new list of movies and series premieres this week that you can't miss.
The Scream saga has just released one more film, where the story changes location for the first time and shows a kind of cult that continues the work of the murderer. Still, there is also another Oscar-nominated film, and Joe Goldberg must finish his mission to catch a murderer.
Do you never know what movies and series to watch on the weekend? You are not the only one, but for this, we have an infallible selection with everything that arrives (or premieres during the week) on the different streaming platforms, so go get the popcorn, prepare your favourite chair, and dedicate yourself to enjoying a few hours of entertainment of all genres.
The weekend is to recharge batteries, relax, and stop thinking about work and the office, and to achieve that, it is a good idea to watch all the movies and series (fantasy, horror, drama, and documentaries) that have been on your radar during the week but that you hadn't been able to see because you were too busy working and finishing things like there was no tomorrow.
The best thing about this weekend in particular? Scream 6 is what every horror fan should see in the cinema. Still, there is also, nominated for best foreign film, the second part of this season of You, and a documentary about the case of a plane that mysteriously disappeared with more than 200 people on board.
Movies with the best reviews, series, and special programs—your weekend schedule has just been filled with hours and hours of entertainment. These are the premieres of movies and series that you cannot miss.
1. Scream 6 – Theaters
Jenna Ortega and Melissa Barrera return for this sixth film in the Scream saga, which moves away from the famous town of the previous films. Here, the sisters run into Ghostface again and what appears to be a mysterious cult dedicated to the killer. They must gather as many allies as possible to avoid becoming another of his victims.
2. 65 – Cinemas
Adam Driver stars in this action and science fiction film, where he plays an astronaut who, after an accident, finds himself on a mysterious and strange planet, where he quickly discovers that he is not the only one there and that he will have to fight to survive. and get out of there.
3. EO – Cinemas
This film is nominated for an Oscar for best foreign film. EO tells the story of a little donkey who is on a journey where he meets good people, terrible people, and all kinds of adventures and obstacles that he must overcome to reach his destination.
4. Tangos, Tequilas and some lies – Prime Video
Lu lives a double life, guided by the mantra "fake it till you make it". While working at the bar one night, she decides to put on a show. One night, she can make an Argentine fall in love, which leads her to travel to Argentina to win the bet and become a member of the bar.
5. Luther: Night Falls – Netflix
Idris Elba reprises his role as Luther in this film. Haunted by an unsolved case, brilliant London detective John Luther escapes from prison to hunt down a ruthless serial killer.
Series and Documentaries
6. Perry Mason Season 2 – HBO Max
Matthew Rhys is back for his series's highly anticipated second season, which premiered in 2020. He plays Perry Mason, a 1930s Los Angeles attorney who must confront a world scarred by corruption to achieve justice and justice. Solve the cases that come to him.
7. The Cry of Butterflies – Star+
This series with Belén Rueda and Susana Abaitua is based on a true story. The series explores the story of Minerva Mirabal and her sisters, who openly opposed one of the most powerful and violent dictatorships in Latin America, led by Rafael Trujillo, and became a symbol of struggle and revolution.
8. You Season 4 Part 2 – Netflix
After discovering the identity of the killer, Joe must do what he can to get evidence with which to expose him before he blames him for the crimes he committed and jeopardizes the new life he's built.
9. MH370: The Plane That Disappeared – Netflix
In 2014, a Malaysia Airlines plane with 239 people on board disappeared from the radar. This documentary explores the mysterious history of that flight and the different theories that were formed to explain what happened that day and why the plane was never found.
10. You Can Do It Chang – Disney+
YOU CAN DO IT. Chang revolves around Chang (Bloom Li), a 16-year-old high school student who plays in the school band and bets the high school basketball star that he can dunk for the annual Homecoming celebration. The gamble leads the 5'7″ boy to learn the jumps he needs to dunk, impress the girl of her dreams, and ultimately earn the attention and respect of her schoolmates.
11. Moon Girl and Devil the Dinosaur – Disney+
Based on the hit Marvel comics Moon Girl and Devil, The Dinosaur follows the adventures of 13-year-old super-genius Lunella Lafayette (Diamond White) and her 10-ton Tyrannosaurus Devil Dinosaur (Fred Tastasciore). After Lunella brings the dinosaur to New York City by mistake, the duo works together to protect the Lower East Side from danger.