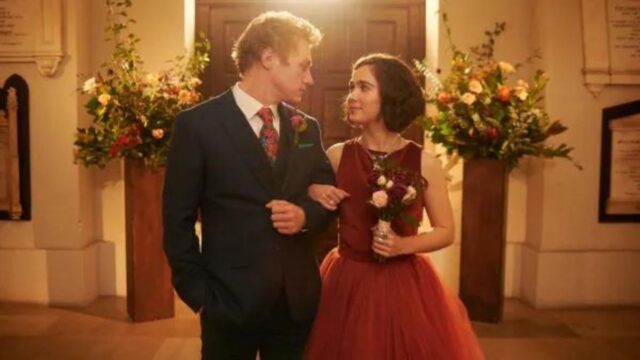 If there was a prize for the most cinematic cigarette-sucking on film, "Lee" would be a lock. Kate Winslet, who plays war photographer Lee Miller, is frequently pictured in a cloud of smoke during the nearly two-hour biography, gratifying her oral fetish. She puffs urgently at times, attempting to calm her nervous nerves. In other sequences, she moves slowly, her dramatic drags and pregnant pauses indicating that this lady has seen a lot, kept a lot of secrets, and survived it all.
"Lee," directed by famed cinematographer Ellen Kuras, is one of the year's more conventional biopic exercises. A protracted conversation in 1977 between an elderly Lee (Winslet in makeup) and a young journalist, Antony (Josh O'Connor), wanting to document Lee's life, frames the picture. Antony hunches over heaps of Lee's old images as the photographer, reclining across from him, describes eras of her life while sipping whiskey and, of course, chain smoking.
She begins her life tale in 1938, when she was living in France with her best friends Nusch Eluard (an underutilized Noémie Merlant) and Solange D'Ayen (an even more underutilized Marion Cotillard) and enjoying in long days of sunshine, sex, and drinking. She meets Roland Penrose (Alexander Skarsgard) while lounging topless outside a magnificent house. He quickly woos her and whisks her away to create a life in London. In 1940, Lee lands a coveted position as a photojournalist at Vogue, reporting to British editor Audrey Withers (Andrea Riseborough, as chameleonic as ever) and the icy Cecil Beaton (Samuel Barnett).Additionally, you can also read about- A Haunting in Venice Movie Review
As the screenplay, written by Liz Hannah ("The Post"), John Collee, and Marion Hume, progresses, many of its episodes are tied to specific photographs from Lee's real-life collection. Lee is inspired to picture a couple of employees in fire masks squatting in the entrance to an air-raid shelter as she comes up to the Vogue offices during the Blitz in 1941. (The original photograph, as well as many others recreated in "Lee," is shown during the film's credits.)
"Lee" darkens significantly as its protagonist grows restless on the sidelines and yearns to become a war correspondent in the field. She obtains credentials, and the rest of the film follows her as she travels with her friend and fellow photographer David Scherman (Andy Samberg) to document the atrocities in Germany.
Clunky narration detracts from the power of these scenes — "even when I wanted to look away, I knew I couldn't," the 1977 Lee tells her interlocutor at one point — but Winslet and Samberg establish a genuine rapport, and their characters' commitment to capturing history in real time lends some vitality to a narrative that frequently threatens to lapse into inertia.
While watching "Lee," I found myself wishing for greater intensity, both in the filming and in the performances. It's frustrating to watch Kuras, whose brilliant and disruptive work on Michel Gondry's "Eternal Sunshine of the Spotless Mind" helped secure the film's place in film history, stuck with such a mundane job.
Read More: Indiana Jones 5 Review and All about the Harrison Ford Movie
Lee Miller's real-life photography, like Kuras' cinematography, is acclaimed for being aggressive, bizarre, and iconoclastic. "Lee" squanders that raw strength by taming it for the screen. "I'd rather take a picture than be in one," Lee tells Antony early in the film. This biography openly resists that aim, and while not unpleasant, it is a sluggish experience.
Grade: C
"Lee" made its world premiere at the 2023 Toronto International Film Festival. It is currently looking for distribution in the United States.