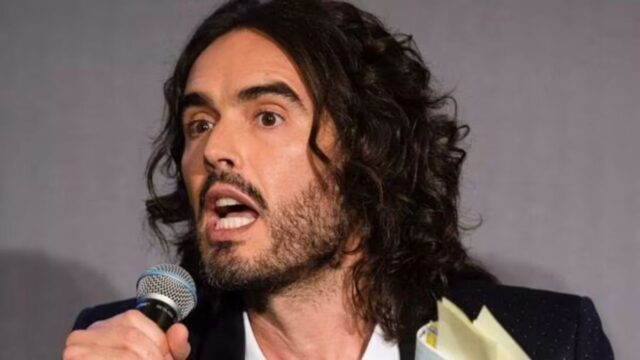 Russell Brand, a comedian and actor, has been accused of rape, sexual assault, and emotional abuse over a seven-year period at the height of his fame.
The claims were made as part of a collaborative investigation by the Sunday Times, the Times, and Channel 4's Dispatches.
Between 2006 and 2013, four women allege sexual assaults.
Brand has disputed the charges, claiming that his relationships have all been "consensual."
During the time period covered by the allegations, Brand held a number of high-profile jobs, including those at BBC Radio 2 and Channel 4, as well as roles in Hollywood films.
Who is Russell Brand?
Other allegations made throughout the probe concern Brand's alleged domineering, abusive, and predatory behavior.
The research was published in the Sunday Times, and on Saturday, Channel 4 aired the Dispatches documentary Russell Brand – In Plain Sight.
Brand performed a scheduled comedy show at the 2,000-capacity Troubadour Wembley Park Theatre in north-west London just hours after the claims were made public as part of his Bipolarisation tour.
Brand referred to the charges but did not directly address them during the hour-long set. He told the crowd that there were things he wanted to say but couldn't.
As part of the investigation, several women have made charges against Brand:
According to one woman, Brand raped her against a wall in his Los Angeles home. On the same day, she was treated in a rape crisis center. The Times claims to have seen medical records to back up this claim.
A second woman claims Brand raped her when he was in his early 30s and she was still in high school. She claims he referred to her as "the child" during a controlling and emotionally abusive relationship.
A third woman claims that Brand sexually attacked her while she was working with him in Los Angeles, and that he threatened to sue her if she told anybody else about her allegations.
The fourth lady said Brand sexually assaulted her and was physically and emotionally hostile to her.
Brand published a video on Friday in which he disputed "serious criminal allegations" that he claimed were soon to be leveled against him.
The actor and comedian claimed he received letters from a television network and a newspaper with "a litany" of "aggressive attacks."
"Amidst this litany of astonishing, rather baroque attacks are some very serious allegations that I absolutely refute," Brand said in the video, which was broadcast on YouTube and X, formerly known as Twitter.
"These allegations relate to a time when I was working in the mainstream, when I was in the newspapers all the time, when I was in the movies, and when I was very, very promiscuous, as I've written about extensively in my books."
"Now, during that time of promiscuity, the relationships I had were absolutely, always consensual."
Brand stated that he believed he was the victim of a "coordinated attack," and that he would investigate the situation because it was "very, very serious."
The Metropolitan Police stated it was "aware of media reporting of a series of allegations of sexual assault" but had not received any reports, without naming the comedian.
"If anyone believes they have been the victim of a sexual assault, no matter how long ago it happened, we would encourage them to contact police."
According to the Sunday Times, all of the ladies felt ready to talk only when reporters approached them. According to the publication, numerous people felt obliged to do so because of Brand's newfound reputation as an online wellness advocate.
The majority of the ladies, who, according to the Times, do not know each other, have opted to stay anonymous.
The Sunday Times stated that it gave Brand eight days to answer to detailed claims, and when given another chance to respond, Brand posted his response video on his YouTube page.
"Russell engaged in grooming behaviors, looking back, but I didn't even know what that was or what that looked like," the woman who said she was 16 when she first came into touch with Brand told the Sunday Times.
Read More: Priscilla Presley About Marriage Life: Tears Up Recalling Her Intimate Moments with Elvis
Another woman told the newspaper that she constantly ordered Brand to get off her during one of his sexual assaults, and that when he finally yielded, he "flipped" and became "super angry."
Another lady alleged that Brand pulled her up against the wall and raped her while she was naked. Brand allegedly tried to stop her from leaving until she informed him she needed to use the restroom.
"I ran out, jumped in my car – thank God I didn't park in his driveway – and booked it out of there," she explained.
Brand has hosted a variety of radio and television shows for networks such as Channel 4, MTV, Radio X, and the BBC.
He began his career as a stand-up comedian in the early 2000s but got his big break as the host of Big Brother's Big Mouth on E4 a few years later.
Brand's star rose after he was cast in films such as Forgetting Sarah Marshall, Get Him to the Greek, and Arthur.
The lady, who claimed to be 16 at the time she met Brand, told the Times that she submitted her charges to his literary agency, Angharad Wood, co-founder of Tavistock Wood, owned by Curtis Brown, in 2020.
"Russell Brand categorically and vehemently denied the allegation made in 2020, but we now believe we were horribly misled by him," Tavistock Wood told the BBC. Tavistock Wood's professional ties to Brand have been severed."
"Channel 4 is appalled to learn of these deeply troubling allegations, including behavior alleged to have occurred on Channel 4 programs produced between 2004 and 2007," a Channel 4 spokeswoman told BBC News.
"We are determined to learn the truth about what happened." We conducted comprehensive document searches and found no evidence that the reported instances were brought to Channel 4's attention.
"We will continue to review this in light of any new information we receive, including the accounts of those who have been affected." We will request that the production company that created the Channel 4 shows investigate these claims and report back to us professionally and satisfactorily."
It stated that Channel 4's management has undergone significant transformation in recent years and that it was committed to ensuring the TV business is safe and inclusive.
The alleged contact with the 16-year-old occurred when Brand was working as a presenter on BBC Radio 6 Music.
Brand is said to have undressed in the studio while working on the show. Dispatches also stated that Brand made a number of sexual statements about a newsreader on air, which he later claimed he was instructed to apologize for by BBC production workers.
According to the newspaper's sources, a "alarming display of aggression and disrespect" from Brand was reported to BBC management.
"Russell Brand worked for a number of different organizations, including the BBC," a BBC spokesman stated. Russell Brand, as well as the then-controller of Radio 2, both left the BBC following a severe editorial violation in 2008.
"At the time, the circumstances of the breach were thoroughly examined." We hope this shows that the BBC takes issues seriously and is willing to act.
"Indeed, the BBC has evolved its approach to talent management and dealing with complaints or issues raised over the years."
"We have clear expectations on workplace behavior. Employment contracts, the BBC Values, the BBC Code of Conduct, and the anti-bullying and harassment policy all outline these expectations.
"We will always listen to people if they come forward with any concerns, on any issue related to any individual working at the BBC, past or present."