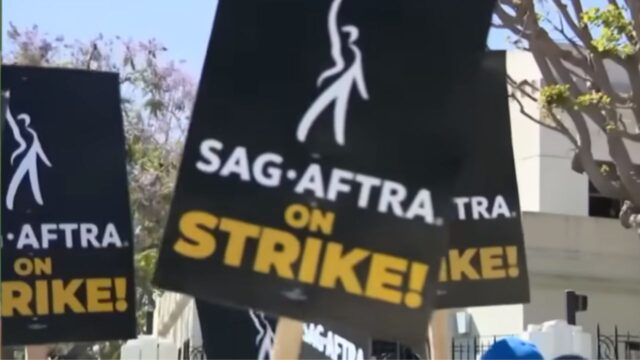 After nearly 4 grueling months of Hollywood labor unrest that brought film and television production to a standstill, the Screen Actors Guild-American Federation of Television and Radio Artists (SAG-AFTRA) has finally reached a tentative deal with major studios. This agreement signals the end of the crippling actors strike, allowing SAG-AFTRA members to return to work and restart stalled projects across the entertainment industry.
The transformative strike will officially conclude on Thursday November 9th at 12:01am PT. This puts an end to over 7 months of turmoil since the joint SAG-AFTRA and Writers Guild of America (WGA) strikes began. It marked the first time in over 60 years that these two influential Hollywood guilds joined forces to picket studios over issues like streaming compensation.
Culminating a Dramatic Final Day of High-Stakes Negotiations
The deal comes after a tense, dramatic final day of talks on Wednesday November 8th. With studios issuing urgent deadlines and ultimatums, many feared the negotiations could collapse. However, a compromise was forged just in time.
In a pivotal moment, SAG-AFTRA's 17-member negotiating committee unanimously voted on Wednesday afternoon to recommend the tentative agreement to the guild's national board. This vote followed hours of discussions weighing the latest proposals.
The specific details of the deal are expected to be revealed on Friday November 10th when the agreement goes before the SAG-AFTRA board. The board will review the terms and decide whether to formally approve this hard-fought tentative deal.
Builds on Writers Guild Deal Momentum
Finalizing this agreement required months of grueling negotiations between the actors guild and the Alliance of Motion Picture and Television Producers (AMPTP), which represents major studios.
The talks gained momentum after Writers Guild members overwhelmingly ratified their own deal with studios on October 9th. The WGA's ratification demonstrated that compromises could be reached to end the standoff.
Renewed SAG-AFTRA negotiations with the AMPTP began around October 24th, indicating both sides were ready to work towards an agreement. The urgency and high stakes were clear, with top executives from Netflix, Disney, NBCUniversal and Warner Bros Discovery directly participating throughout talks.
Studios Made a "Historic" Offer
A breakthrough appeared to occur last Friday November 3rd, when studios presented what they termed a "historic" offer in response to the guild's last counterproposal. SAG-AFTRA negotiating team dug into the details over the weekend.
Then on Saturday November 4th, an expanded group of studio leaders joined the talks to advocate for the AMPTP's offer. They highlighted substantial gains in wages, bonuses, streaming compensation, and sweeping new protections around artificial intelligence (AI) usage.
"We didn't just come toward you, we came all the way to you," said Netflix's Ted Sarandos, suggesting the studios had met the guild's demands.
Marathon Negotiations Continued This Week
After the promising studio offer over the weekend, talks continued in full force this week to reach a final agreement. Discussions remained tense as the clock ticked down towards studios' stated deadline.
On Wednesday November 8th afternoon, the AMPTP issued an ultimatum to SAG-AFTRA negotiators: agree to a deal by 5pm, or talks would collapse. They claimed they needed an urgent answer to salvage the broadcast TV season and summer 2024 movie slate.
Down to the wire, guild leaders kept collaborating with the studios. Finally, at around 5:30pm PT, a monumental tentative agreement was officially reached.
What Comes Next: Ratification andRestarting Production?
If everything proceeds as planned, the deal will go to SAG-AFTRA's national board on Friday November 10th for approval.
Then the agreement requires ratification from the guild's 160,000 members. The strike concluding early Thursday November 9th allows productions to restart immediately during the ratification process.
This means SAG-AFTRA members could be back at work within days on sets across Hollywood. Film and TV projects stalled by the strike can resume production and try to get schedules back on track.
After 4 Months of Devastating Economic Impact
Finalizing this deal comes as a huge relief after months of financially devastating strikes. The WGA strike began in early May, followed by the SAG-AFTRA strike starting in mid-July.
Economists estimate the combined strikes have cost the California economy over $6.5 billion and around 45,000 entertainment industry jobs. Film and TV production were crippled, with only a few projects completed using non-union labor.
For many guild members, the strikes resulted in enormous personal hardships from months of lost wages. Many struggling actors, writers, and below-the-line production crew faced severe financial woes.
At the same time, the strikes did unify members in demanding better compensation for the boom in streaming content. Guilds argued they needed to fight studios to win fairer deals.
A Long, Arduous Road to Compromise
Reaching this agreement was a long journey full of setbacks, rifts, and mistrust on both sides. After SAG-AFTRA announced its strike on July 14th, negotiations did not officially begin until October.
Early October talks quickly collapsed over disputes around revenue sharing. On October 11th, the AMPTP walked away from negotiations after just 8 days, suspending discussions.
Guild Frustration with Studios
SAG-AFTRA leaders Fran Drescher and David White expressed extreme frustration with studios abandoning talks.
"When we began negotiations with the AMPTP, we came in good faith. We expected the same from them," said President Fran Drescher.
Chief negotiator Duncan Crabtree-Ireland said the studios were employing "bully tactics" and denying actors their fair share as streaming grew.
Studios Blame Guild for Breakdown
Studio executives painted a different picture, blaming SAG-AFTRA for making unreasonable demands that derailed constructive talks.
In mid October at an industry conference, Netflix's Ted Sarandos said "They introduced a levy on subscribers that was a bridge too far for us." He said their proposal was untenable.
When studios stated talks were "ongoing" later in October, Crabtree-Ireland denied it, saying "The best way to reach a deal is for CEOs to end their walkout and resume negotiations."
Top Celebs Try to Intervene, But Fail
Major celebrities including George Clooney attempted to mediate between the two sides in October to restart talks, without success.
Bob Iger Initiates Return to Talks
With no progress made and both sides digging in, a breakthrough finally came in late October with the intervention of Disney CEO Bob Iger.
On October 21st, Iger contacted the guild requesting a new round of negotiations. This paved the way for talks to resume on October 24th, even as tensions remained high.
Early Talks Marked by Tension and Resistance
In the October 24th return to the bargaining table, studios presented a new offer they hoped would break the deadlock over streaming compensation. But SAG-AFTRA negotiators remained unmoved, demanding more concessions.
The guild asked for time to review the latest studio proposals around increased bonuses and minimum pay rates. Crabtree-Ireland indicated optimism but called proposals just "a step in the right direction."
Late October Brought Complex Compromises
In late October, both sides presented amended proposals and comprehensive counters, inching towards compromise on issues like AI.
Talks extended into October weekends as guild and studio representatives tirelessly hammered out a complex deal. Discussions grew "closer and closer" on satisfying both sides' core demands.
Down to the Wire Again in Early November
Yet as a tentative agreement seemed within reach in early November, studios again shook talks by issuing a strict deadline for a deal to be reached on Wednesday November 8th.
This pressure tactic could have derailed the delicate talks. But negotiators kept their resolve and refused to walk away until a deal was complete.
Perseverance and Patience Paved the Way
Ultimately, after all the setbacks, this historic deal was realized through perseverance on both sides. Guild negotiators stayed patient but firm on priorities like streaming and AI.
Meanwhile, studios made gradual concessions to reach an agreement, even when talks grew tense. The final compromises required years of contract provisions to be re-envisioned for the streaming era.
Monumental Sacrifices from Guild Members
SAG-AFTRA members made profound sacrifices and endured months without work to achieve this contract. Their unity and determination proved essential.
The early conclusion of the strike allows them to return before the holidays. However, many suffered greatly from months of lost income and stalled productions.
Ripple Effects Across the Industry
In addition to allowing actors to resume work, networks and streaming services can move forward with planned projects. Major studios can focus on getting delayed films into theaters in 2024.
Restoring stability after months of upheaval will take time. But this agreement marks a pivotal step in reviving Hollywood after its most tumultuous period in decades.
All eyes now turn to ratification from SAG-AFTRA members. But after the extraordinary efforts to reach this deal, members will likely vote to approve and officially close one of Hollywood's most transformative chapters.
A huge shoutout to our LA members who joined the picket lines today. Thank you for your dedication during this fight. We are #SagAftraStrong TOGETHER. 💪🌟 #SagAftraStrong pic.twitter.com/ZROdcgmAKz

— SAG-AFTRA (@sagaftra) November 9, 2023