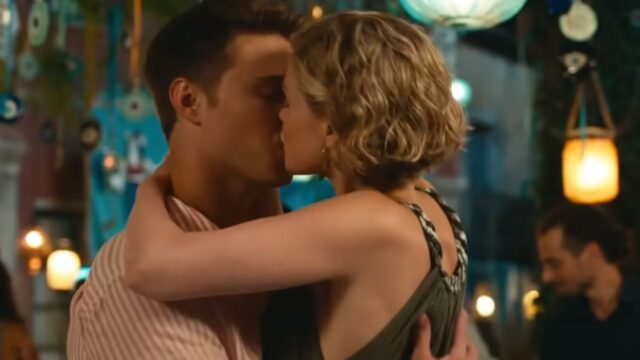 With an overwhelming amount of films landing on streaming platforms weekly, it can be tough choosing what to watch amid the clutter. To help, we've highlighted 5 top new movie releases worth streaming this weekend across genres like action, comedy, sci-fi and horror.
1. Spider-Man: Across the Spider-Verse' – Dazzling Animated Superhero Sequel
Four years after 'Into the Spider-Verse' broke animation boundaries, Miles Morales returns for a mind-bending multiverse adventure in the visually astounding 'Across the Spider-Verse'.
As Miles reunites with Gwen Stacy, he's plunged into wild new dimensions, teaming with a dynamic Spider-Squad to combat a dangerous threat. But conflicting approaches fracture the heroes. To save the multiverse and his loved ones, Miles must rediscover what truly makes a hero.
Boasting mesmerizing artistry and heart, 'Across the Spider-Verse' is a new animated triumph. Now on Netflix.
2. My Big Fat Greek Wedding 3 – Chaotic Sequel With Beloved Cast
The lively Portokalos clan reunites after family tragedy pulls Toula and Ian to Greece in search of solace and answers in 'My Big Fat Greek Wedding 3'.
Mayhem inevitably ensues as the eccentric characters embark on madcap adventures, including a quest to revitalize the old village and Aunt Voula seeking romance in Paris.
Full of emotion and goofy charm, this threequel recaptures the communal magic that made the first two films hits. Now on Peacock.
3. Fingernails – Retrofuturist Romcom Asks What is Love?
Set in a dystopia where science claims to definitively know romantic compatibility, Jessie Buckley and Riz Ahmed play instructors at a mysterious institute testing love in the stylish, provocative 'Fingernails'.
When the pair secretly develop mutual feelings that defy the system, chaos and self-discovery follow. Blending quirky comedy with existential sci-fi, 'Fingernails' playfully examines modern romance. Stream it now on Apple TV+.
4. Insidious: The Red Door' – Haunted Horror Prequel
In this chilling prequel, a college-bound Dalton and his father Josh open psychic wounds by uncovering repressed trauma linked to the demon that has cursed their family, as director Patrick Wilson makes his horror debut.
'Insidious: The Red Door' dives deeper into the series' iconic supernatural mythology through raw emotional horror centered on generational grief and trauma. Stream the haunting new entry now on Netflix.
5. Quiz Lady – Comedic Road Trip for Game Show Glory
After her dog is dognapped for ransom money, trivia whiz Awkwafina and her trainwreck sister Sandra Oh hilariously hustle across the country to win cash on a game show and save their pet in 'Quiz Lady'.
The raucous road trip pairs Awkwafina's neurotic genius with Oh's wild child for vibrant comic chaos. Stream the irreverent indie now on Hulu.
6. Sly – Candid Rocky Origin Story Documentary
This fascinating documentary illuminates Sylvester Stallone's unbelievable underdog journey from utter obscurity to crafting and starring in the iconic 'Rocky' franchise that defined his career.
Through interviews and archival footage, 'Sly' offers an intimate portrait of Stallone's tenacity and creative passion that brought his fictional legends to life. Stream the inspiring doc now on Netflix.
Whether you're feeling superheroes, comedy, sci-fi, horror or inspiration this weekend, these new streaming film releases have you covered for quality cinema time across every mood and taste. Get your streaming queues ready and enjoy.
7. A Sci-Fi Masterpiece Revisited: "Aliens" (Max)
James Cameron's "Aliens," streaming on Max, exemplifies a sequel that not only matches but arguably exceeds its predecessor. Sigourney Weaver reprises her role as Ellen Ripley, the indomitable survivor who awakens to find her warnings about the Xenomorph species dismissed by the Weyland-Yutani Corporation. When contact is lost with a human settlement on the Xenomorph home planet, Ripley must once