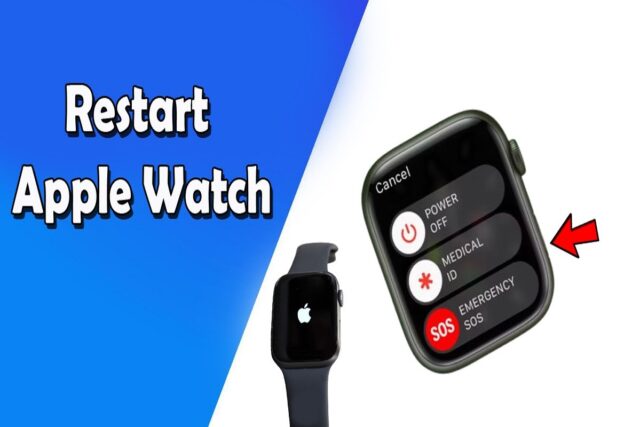 Listen to the Podcast:
Do you want to know how to restart Apple watch? Apple has spoiled us with a plethora of technological marvels. The Apple Watch is one of these devices. The Apple Watch is a smartwatch that can do everything from tracking calories to making your life easier. You only need to pair it with your phone to get started.
However, just like any other technological product, the Apple Watch might have problems. The watch may have been struck by lightning or hanging in the center of something. There is nothing you can do but force it to restart. Don't worry, restarting is not the same as resetting and will not erase any data. This post will explain how to restart Apple watch.
When and Why to Restart Apple Watch?
If you notice that your computer or phone is performing slowly or becoming unresponsive, simply restart it. Even expensive wearable devices, such as the Apple Watch, with its cutting-edge hardware and highly polished software, can become slow and sluggish after extended use.
You may occasionally see the Apple Watch with its logo on the display. It will not boot or continue, but will only display the static logo.
At times, the Watch's menu will be slow or unresponsive while you try to move through it. In several circumstances, the Apple Watch simply froze on one screen. Restarting the Apple Watch can help in all of these circumstances.
Read More: Clevo NH70
How to Restart Apple Watch Manually?
Step 1: Press and hold your Apple Watch's side button until you see three options on the screen:
Power Off: This allows you to turn off your watch.

To view your medical information, use your Medical ID.

Emergency SOS: To make an emergency phone call.
Step 2: To turn off your watch, drag the power off slider to the right.
Step 3: To activate your Apple Watch, press and hold the side button until the Apple logo appears.
It's worth noting that if your Apple Watch is charging, you should unplug it first. You will not be able to restart your wearable if it is charging.
How to Hard Reset Apple Watch?
You only need to perform two things to forcibly restart an Apple Watch.
Hold down both the side button and the Digital Crown. The Digital Crown is the spinning button on the device's side.
Hold down these two buttons until the Apple logo appears on the screen.
When your Apple Watch restarts, you'll be asked to enter your passcode, if you have one. If you're prone to forgetting your passcode, make a note of it before beginning this step.
If you forget your passcode, you'll need to delete the device using your iPhone's Watch app and restore it from a backup.
Your Apple Watch should not frequently freeze. If this happens regularly on your Apple Watch, you should look into other options, such as updating its firmware, updating your iPhone to the latest version of iOS, or starting over.
If the Apple Watch continues to freeze, contact Apple support to see if they have a solution.
Read Also: Clevo PA71
How to Restore Apple Watch Firmware with Your iPhone?
Important data from your Apple Watch is stored on your iPhone, but Apple has added a tool that allows you to rebuild the software of your watch using this data. You'll need an Apple Watch running WatchOS 8.5 and an iPhone running iOS 15.4 to get started.
To employ this strategy,
Turn on your iPhone's Bluetooth and connect to a WiFi network.
Connect your Apple Watch to its charging station.
Twice press the side button on your Apple Watch.
To complete the firmware restoration process, follow the steps on your iPhone.
How to Reset your Home Screen Layout?
You don't like the honeycomb design you've chosen for the home screen of your Apple Watch? You may reset it to factory settings on your iPhone using the Watch app.
Launch the Watch app.

Select the My Watch option.

Select General.

Select Reset.

Reset the Home Screen Layout.

Tap Reset Home Screen to confirm your selection.
How to Disconnect your Apple Watch?
You will need access to your iPhone to unpair your Apple Watch and reset it to factory settings. When you unpair the devices, the contents of your Apple Watch will be erased and it will be completely removed from your iCloud account.
In the top left corner of the Watch app, hit All Watches.
Tap the info icon (a lowercase I surrounded by a circle) next to the watch you want to unpair.
When prompted, tap Unpair Apple Watch and confirm.
If your model has cellular data, you'll be asked if you want to keep your cellular plan. If you cancel the plan, you may need to contact your carrier to terminate the service as well. To confirm, tap.
Read More: Top Signs Time to Replace your Mac
Erase All Content And Settings
Erasing All Content and Settings on an Apple Watch restores all settings to factory defaults and deletes all data and media stored on the device. It's the last step you can take to rule out a software issue. After you've completed the reset, you'll need to link your Apple Watch to your iPhone, just like you did when you first got it out of the box.
We recommend that you backup your Apple Watch before proceeding with this step. If you conduct this reset without a backup, you will lose all of your Apple Watch's saved data.
On your iPhone, open the Watch app and go to General -> Reset -> Erase Apple Watch Content and Settings. To confirm your decision, tap Erase All Content and Settings.
Restore Apple Watch
If your Apple Watch is disabled because you forgot your passcode or entered an erroneous passcode too many times, you can input the passcode again using the Apple Watch app on your iPhone. If you still can't recall your Apple Watch passcode, you can restore it and reset it. Restoring erases the content and settings on Apple Watch, but replaces them with a backup. See the Update Apple Watch software for further details.
Read Also: Data Scraping on Social Media Platforms
Things to Note While Restarting Your Apple Watch
Your data will not be erased if you restart the Apple Watch. We're simply rebooting the gadget. Data may be lost if the device is reset. If everything else fails, use the 'Force Restart' technique. If you are working on something and the Apple Watch becomes unresponsive, force restarting it may not save your work.
Then you're updating the Apple Watch with the latest watchOS, don't force restart it. Connect the watch to the charger and leave it there until the watchOS is updated.
Conclusion
You now understand how to restart and force-restart your Apple Watch. Remember that the above-mentioned recommendations are applicable to all Apple Watch Series. Please contact Apple Support if your Apple Watch remains frozen. However, you should first attempt factory resetting the Apple Watch.
Frequently Asked Questions (FAQs) about How to Restart Apple Watch?
Does Restarting My Apple Watch Delete Everything that is on it?
No, unlike resetting your Apple Watch, there is no risk of losing all of your data or content when you reset it. However, we recommend that you only forcibly reset your Apple Watch when absolutely required.
Is Apple Watch Worth Buying?
The Apple Watch is fantastic, but it is far from indispensable. Don't buy anything if you can't afford it. Apple Watches are becoming more affordable, especially if you buy an older model like the Apple Watch 3, but they are still not cheap.
Does Apple Watch Work Without an iPhone?
Even if your iPhone isn't with you, a Wi-Fi or cellular connection allows your Apple Watch to do the following. Siri may be used to seek directions, send messages, and more.
How do I Reset my Apple Watch after too Many Wrong Attempts at my Passcode?
Follow the instructions above for resetting the watch from your iPhone to reset your Apple Watch after too many erroneous passcodes try.
Can I Reset my Apple Watch without the Passcode?
As previously stated, you can reset your Apple Watch without entering your passcode using your associated iPhone. You may also soft reset your Apple Watch without entering a passcode by pressing and holding the Digital Crown and side button for ten seconds.
Does a Force Restart Delete Apple Watch Data?
No! A force restart will not erase Apple Watch data. It's comparable to doing a Ctrl + Alt + Delete function on a frozen machine. When you restart it, all of your data, installed apps, and other settings are restored.
Does Apple Watch work with Android?
The Apple Watch will only operate with iPhones, and this is unlikely to change in the future. You'll need an iPhone with the Watch app installed to activate an Apple Watch. Even if your smartphone supports Bluetooth communication, there is no substitute for this on Android.
Can you restart the Apple Watch from the app?
Hold down the Digital Crown button until the app closes and the screen returns to the Watch face.
You Can Read More: Razer Blade 15 2018 H2