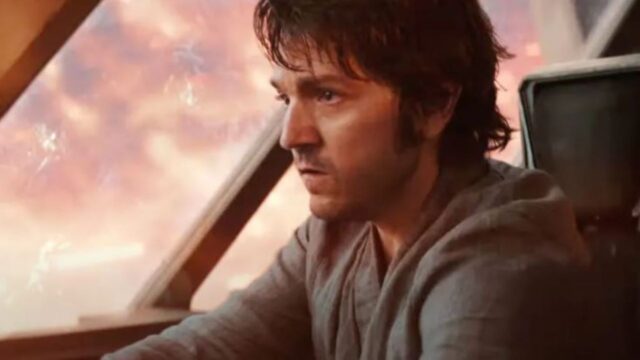 Listen to Podcast:
Cassian Andor's story in the Star Wars series takes place about 5 years before Diego Luna's character joins the mission to destroy the Death Star. During this time, he meets some interesting people and goes on dangerous and exciting adventures with them.
Some critics said before the show's premiere on September 21 that this could be one of the best Star Wars shows, especially since it's based on one of the best movies in the series and brings back a fan-favorite character played by Diego Luna.
Rogue One told the story of the rebels who were willing to risk their lives to save the galaxy. Now, we'll get to see 5 years in Andor's life, which were probably full of important events that made him the man he was when he met Jyn Erso, who was willing to go on a suicide mission to steal the plans the rebels needed to win.
And Cassian Andor is not the only character in this story. There are some new characters in his story, and he has something to say as well.
Cassian Andor
Actor: Diego Luna
Where you've already seen it: Rogue One, Narcos: Mexico, Y Tu Mama Tambien
Cassian Andor is a rebel spy who helps get the key to destroy the Empire's most powerful weapon. This is something we already knew. Andor is from a family of Separatists who were on Count Dooku's side, so they probably wouldn't be too happy to see him on the other side.
Andor is a determined man who will do whatever it takes to get the job done. Before joining the rebellion, he was a pilot, soldier, and intelligence agent in the Clone Wars. He eventually meets Jyn Erso and helps her break into an Imperial station to get the plans for their most powerful and dangerous ship.
Bix Caleen
Actor: Adria Arjona
Where you've already seen her: Morbius, True Detective, and Father of the Bride
This is a new and mysterious character, since not much is known about her. According to the Star Wars fan site Bix Caleen, she is a human who gets in trouble with the authorities on the desert planet Ferrix. This causes her to run into Cassian Andor, so she could be an ally or possible partner of Diego Luna's character.
View this post on Instagram
Maarva
Actor: Fiona Shaw
Where have you already seen her: Harry Potter, Killing Eve
One of the new people in this story is Harry Potter's mean aunt, who has never been in a Star Wars movie before. Fans say that she might be Cassian Andor's adoptive mother and that she probably took care of him after he lost his family.
We know that Andor's family was part of the Separatists, so it's likely that she is the one who teaches him everything he knows about politics and conflicts in the galaxy and helps him become the rebel soldier we met in Rogue. One.
Saw Gerrera
Actor: Forest Whittaker 
Where you've already seen her: Black Panther, was the last King of Scotland.
The character who won the Oscar was part of the Clone Wars. He was the leader of the Onderon Rebels and helped fight the Separatists, so he was an ally of the Rebels at first.
Saw Gerrera's problem is that he has become too extreme, so the alliance ends up splitting from him and the Onderon warriors (who were trained at one point by Anakin and Obi-Wan).
Mothma Mon
Actor: Genevieve O'Reilly
Where you've already seen her: Rogue One: The Honest Woman
This is one of the characters we met in Rogue One. She also shows up in Return of the Jedi and Revenge of the Sith. She worked in the Galactic Senate and was the first chancellor of the New Republic.
She has always been against the Empire. Eventually, she becomes one of the first members (or rather, the founder) of the Rebellion and fights for peace in the galaxy. Because of this, her path and Cassian's paths will eventually cross.
Luthen rael
Actor: Stellan Skarsgård
Where you've already seen her: Good Will Hunting, Nymphomaniac, Dune, and Chernobyl
This isn't the first time Skarsgard has been in space. In the movie Dune, he played a powerful enemy of the Atreides family. Here, the actor plays a man who joins the rebellion to fight against the Empire. He could become a mentor to Cassian and is definitely a fellow warrior.
If you are interested, you can also read: Vikings Season 7, Movies with Fainting Scenes, TweakDoor, Best Crime Series of the 21st Century, Amazon Prime Release Date September 2022, The Rings of Power Villain, Dynasty Season 6, Gramhir, F2Movies, Elton John and Britney Spears, Realistic Driving Games, 5movies, MetaZoo, SmiHub, Homewyse, Best Inspirational Movies, Saddest Movies, Black Mirror season 6, Tatiana Maslany, Who is Alicent Hightower, Baki Season 5, Thor, Love and Thunder, Best Sebastian Stan Movies, Daredevil Season 4, Best Ben Affleck Movies, Instastories, Latina Creators on Disney+, Overlord Season 5, Satanic Panic Movie, iOS 16 Beta, 6streams, 8 Nazi Hunters Movies, Streameast, Best Grail Watches, Emerald Chat, 365 Days 3, House of the Dragon, IFVOD, NFL Streaming Sites, Google TV App, Meta Launches, AniMixPlay, and Jilo Virals.