Secret Invasion is another series that Marvel Studio is getting ready to debut in the MCU, and everything points to it being just as good as WandaVision, Loki, Falcon, and the Winter Soldier.
The show has ties to Nick Fury and Captain Marvel, and it will reportedly tell the story of a secret invasion in which a group of evil Skrulls sneak onto Earth and start to replace key characters in order to control everything and destroy it in the end. Disney+ and Marvel confirmed the Secret Invasion series in December 2020, but it wasn't until early 2021 that we started to learn more about it and find out some theories about how this story fits in with the rest of the movies and series. the MCU and the end of WandaVision seemed to leave a key clue.
For those who don't remember, in the end, Monica Rambeau (aka Spectrum) was contacted by a mysterious agent who told her that someone important wanted to meet her. Based on her connection to Carol Danvers and the Skrulls (Monica was a child in Captain Marvel 1), that person could be Nick Fury, which brings her even closer to the Skrull world.
The Trailer:
The first trailer shows that Nick Fury is coming back to Earth. He has avoided coming back for a long time, but now he has to because war is about to start.
The First Images have Already been Revealed:
Samuel L. Jackson and Emilia Clarke filming for Marvel's SECRET INVASION series. pic.twitter.com/wlFjDaLJwk

— Secret Invasion News (@sinvasionnews) January 23, 2022
Not because of Marvel, but because fans shared a bunch of photos from the set in which Emilia Clarke and Samuel L. Jackson are wearing regular clothes and walking around the city. The series is being filmed in Leeds, England, but it is not known if the story will take place there.
Theories say that Clarke will play Abigail Brand, a SHIELD commander whose job it is to protect Earth from extraterrestrial threats as part of SWORD, which could also connect this series to WandaVision.
The Theory about the Timeline:
Remember that the last time we saw Nick Fury was in the after-credits scenes of Spider-Man: Far From Home, and we haven't heard from him since? Secret Invasion will change everything.
Some theories say it happens right after Endgame, while others say it happens a little bit further in the future or a long time in the past.
The photos show Fury in a very different outfit than he usually wears. This could mean that Fury has already retired, but he needs to go back to work to solve a problem that is putting him in danger again. to all people. On the other hand, Fury was seen in The Winter Soldier without an eyepatch, so it's also possible that the series will be based on what happened in the movie.
What is Secret Invasion?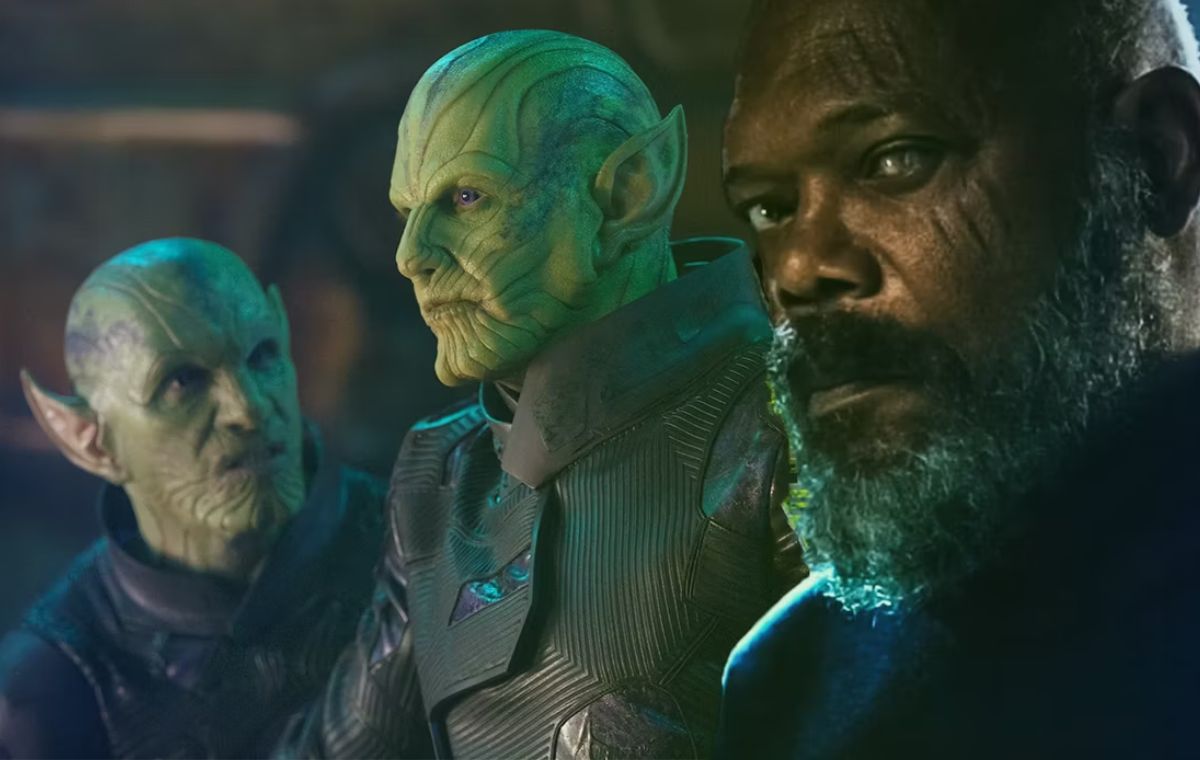 Secret Invasion is a miniseries of eight comic books that came out between April and December 2008. Brian Michael Bendis wrote the series, and he meant for it to be a direct continuation of the "Annihilation" storyline from 2006.
In addition to the 8 comics, the story also involves the Mighty Avengers, the New Avengers, the Young Avengers, the Fantastic Four, the Secret Warriors, and other important characters who are part of the mission to stop the invasion.
In Secret Invasion, the Skrulls try to come to Earth and take it over. The invaders can change their shape, which lets them steal the identities of many people without the rest of the people noticing. Veranke, the queen of the Skrulls, even pretends to be Spider-Woman, and her army is able to look like SHIELD agents and the Fantastic Four.
The series will have six episodes on Disney +, and like the rest of the series, it is expected to be part of the MCU, which is always growing.
Who will be in the Series?
Samuel L. Jackson has already said that he will be back as Nick Fury. In Captain America, Nick Fury met the Skrulls and seems to know the most about them than anyone else.
Ben Mendelsohn will return as Talos, and One Night in Miami actor Kingsley Ben-Adir will join the cast in a role that hasn't been revealed yet. Oscar winner Olivia Colman could also be in the series, and it was just announced that Emilia Clarke will join the MCU for the project as a mysterious character.
For now, we don't know if more MCU characters will show up or if we'll get to see Monica Rambeau in action. However, we do know that all Marvel shows are connected in some way, so it wouldn't be surprising to see interesting cameos, especially since Skrulls can change their appearance and take on the identities of other people.
When is it Premieres?
There is no release Secret Invasion date yet, but we know that the Loki, Hawkeye, and Ms. Marvel series will come out first, so it could be 2022 or 2033 before it comes out.
If you are interested, you can also read: Kengan Ashura Season 3, iZombie Season 6, Knives Out 2,  Couchtuner,  Openload, The Rings of Power: Who is Theo, Wcoforever,  Andor Star Wars Cast, Vikings Season 7, Movies with Fainting Scenes, TweakDoor, Best Crime Series of the 21st Century, Amazon Prime Release Date September 2022, The Rings of Power Villain,  Dynasty Season 6,  Gramhir,  F2Movies, Elton John and Britney Spears, Realistic Driving Games,  5movies,  MetaZoo,  SmiHub.
Homewyse, Best Inspirational Movies, Saddest Movies, Black Mirror season 6, Tatiana Maslany, Who is Alicent Hightower, Baki Season 5, Thor, Love and Thunder, Best Sebastian Stan Movies, Daredevil Season 4, Best Ben Affleck Movies, Instastories, Latina Creators on Disney+, Overlord Season 5, Satanic Panic Movie, iOS 16 Beta, 6streams, 8 Nazi Hunters Movies, Streameast, Best Grail Watches, Emerald Chat, 365 Days 3, House of the Dragon, IFVOD, NFL Streaming Sites, Google TV App, Meta Launches, AniMixPlay, and Jilo Virals.