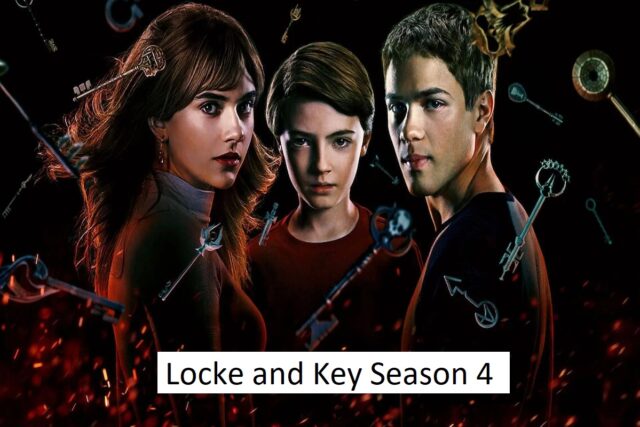 Locke and Key season 4 Netflix's most popular fantasy horror series, Locke and Key, was recently released. Based on Joe Hill and Gabriel Rodrguez's IDW comic book series of the same name, the series launched on Netflix series in February 2020 and has filled the Stranger Things-shaped void in fans' lives by showing the first two seasons during the show's three-year hiatus. Now in its third season, one of the most often asked questions by fans is, "Will there be a Locke and Key season 4?"
The Locke family, played by Darby Stanchfield, Emilia Jones, Connor Jessup, and Jackson Robert Scott, discovers a lot of mysterious keys in their new home, known as the Keyhouse. These keys can be used to open numerous doors in mysterious ways, and they quickly discover that a demon is also hunting for them for nefarious purposes. If you're curious as to whether there will be a Locke and Key season 4, read on.
Will there be Locke and Key Season 4?
Unfortunately, this appears to be the final journey we could have taken with the Lockes. While releasing a first peek at the upcoming Locke and Key Season 3, Netflix stated that this will be the show's final season. The cancellation of Locke and Key Season 4 is, however, somewhat suspect in light of the emergence of series such as Stranger Things and Elite in rapid succession.
It also means that not all of the source material will be adapted, as Hill and Rodriguez's five-year-long comic book series comprises multiple issues. Despite the disappointing news that there will not be a Locke and Key Season 4, we can always count on the previous seasons to provide us with magical keys to enjoy at any time.
Why isn't Netflix Releasing Locke and Key Season 4?
Locke and Key Season 3 sees the destruction of the new keys from Locke and Key season 4, effectively concluding the saga. It's a satisfying conclusion, as the Lockes have once again realized how dangerous these keys could be if they fell into the wrong hands, and that destroying them is the only way to prevent a demonic invasion of reality. In reality, this was a plot that could only survive for so long; part of Locke & Key's appeal is its young ensemble, and the players are getting older. It is a cliché that every comic — and every adaptation of a comic book — must adhere to a central premise. In the case of Locke & Key, the clock was perpetually ticking because youth's innocence is a fundamental concept.
Typically, Netflix kills series after three seasons if they fail to attract new members, one of the streaming giant's most important criteria. While it is unlikely that Locke and Key season 3 attracted any new subscribers, the show's viewership was definitely sufficient for Netflix to agree to continue it for one more season, allowing the plot to conclude. Unless they smash hits like Stranger Things and The Crown, comparatively few Netflix Originals survive the past three seasons. Locke & Key is one of Netflix's best, yet it is not as popular as other uncommon titles.
Locke and Key Season 4 Quick Info
| | |
| --- | --- |
| Season:  | Locke & Key |
| No. of Seasons: | 3 |
| No Of Episode: | 28 (seasons 1-3) |
| Status: | Pending |
| Script Writer:  | Meredith Averill |
| Director: | Mark Tonderai |
| Genre:  | Fantasy, drama, Supernatural horror |
| Production:  | IDW Entertainment |
| Producer: | Kevin Lafferty |
| Music: | Torin Borrowdale |
| Cast: | Darby Stanchfield, Connor Jessup, Emilia Jones |
| Country of Origin: | United States |
| Origin Language:  | English |
| Available Languages:  | English, Hindi |
| Next Season Release Date: | Not Yet Confirmed |
| Available On: | Netflix |
Locke and Key Season 4 Release Date
Netflix has not yet formally renewed Locke and Key season 4. As of January 2023, there is no scheduled release date for the upcoming season. This does not indicate that the series has been terminated. The next season of the show has not been confirmed or scheduled as of yet. We will add additional information to this topic as soon as it becomes available. Sign up for updates below if you wish to be alerted of the season 4 debut, and join the discussion in our forums.
What did the Producers of this Locke and Key Show Say?
However, according to the show's producers. They decided to end Locke & Key after the third season. He asserts that there will be no more seasons. At the time of the cancellation announcement for the Netflix series, co-showrunners Carlton Cuse. And Meredith Avril published a statement stating, "Once we began working on the series, we determined that three seasons was the optimal amount of time to tell the tale of the Locke family." And their key house adventures concluded satisfactorily.
"As storytellers, we are thrilled to have the opportunity to share our interpretation of Joe Hill's marvelous story. And Gabriel Rodriguez as we deem appropriate.
However, as Meredith Avril stated, we will preserve the magic keys for our own use. This position maintains despite the possibility that they will adapt various comic book series. During its initial run of five years and 37 issues. There were six "series arcs" in the Joe Hill/Gabriel Rodriguez comic book. However, it appears that these narratives will always be visible on the page. In reality, the cast has long since left the show; production on the third season concluded in the fall of 2021.
The Plot of Locke and Key season 4
The American fantasy and drama television series Locke and Key season 4 were created by Meredith Averill and Aron Eli Coleite. The show is based on the same-titled novel. The third season of Locke and Key premiered on Netflix on 7 February 2020, and the show has thus far broadcast three seasons. The first season of the show was a worldwide phenomenon with a massive fan base. This prompted Netflix and the show's creators to order the second and third seasons.
The unusual fantasy plot of Locke and Key season 4 has helped the show draw a large number of viewers and hook them with each episode. The series begins with the Locke family's relocation from Seattle to Matheson, Massachusetts. The death of Rendell Locke by a former student prompted his wife and three children to relocate to Matheson. One of the children quickly discovers a mysterious key that enables him to unlock numerous magical doors and bestows unique abilities on the folks. Thus, the lady who wants to steal these keys for irresponsible and bad motives quickly appears.
Who Could Star In Locke and Key season 4?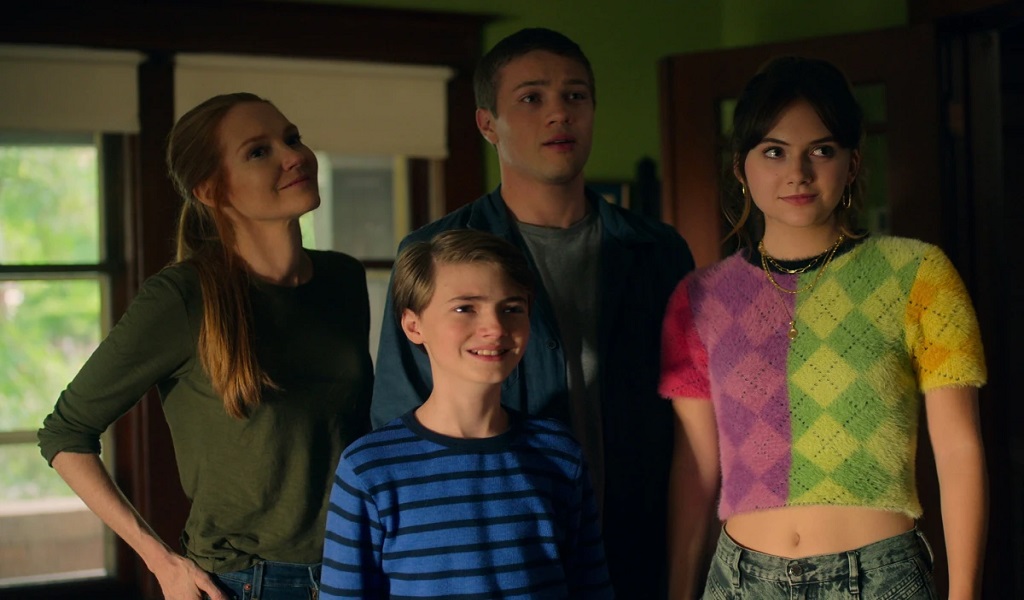 If they had given the program the go-ahead for Locke and Key season 4, the majority of the main cast could have returned in time for the finale (with a fourth season, I mean). Strangely, I'm discussing a fabricated season of a program that has already been canceled. However, let's discuss who could have been in Locke and Key season 4.
This is a difficult guessing game. I believe the entire Locke family would have returned for Locke and Key season 4. I believe that their mother would have returned for a fourth season as well. Darby Stanchfield, Connor Jessup, Emilia Jones, and Jackson Robert Scott might have therefore all appeared in the fourth season of the Netflix series.
We'll let you know as soon as anything changes or is announced regarding Locke And Key Season 4. They could bring it back if enough people request it and if someone begins a Change.org petition to "renew Locke and Key."
Is It Ending with Locke and Key Season 4?
True, Locke and Key season 3 is the conclusion of the acclaimed Netflix thriller series. The most recent bundle of episodes, which is shorter than the previous two seasons, concludes the Locke family and Keyhouse saga. Initially, it raises the stakes by placing the Lockes against a brand-new antagonist and reintroducing Dodge (Laysla De Oliveira) for good measure.
In April, Deadline announced that Locke & Key would finish with its Locke and Key season 3. And with programs like Stranger Things and The Umbrella Academy lasting longer, fans may be unhappy that Locke and Key season 4 will not be produced. However, there is a silver lining as we bid farewell to the series: it looks to have concluded exactly as the showrunners intended.
Where are Locke and Key Season 3 Filmed?
Locke and Key are set in the fictitious Massachusetts hamlet of Matheson but is really filmed in Canada.
The majority of scenes that take place outside of the town are filmed in Toronto, Ontario, while the town itself is a small Nova Scotian port community called Lunenburg.
Regarding the Keyhouse, it is nearly all computer-generated imagery, which is based on a front facade constructed in the Canadian countryside.
Is Locke and Key Worth Watching?
Although reviews for the third season of Locke and Key are not yet available, the series typically receives generally positive reviews. Locke & Key is not the best adaptation of a comic book compared to, for instance, The Sandman, but it is still a worthwhile show. Season 1 had a 66% rating on Rotten Tomatoes, whereas Season 2 gets superior reviews, as evidenced by its average score of 83%.
The third season of Locke and Key has received mixed reviews, with some critics expressing displeasure with the show's conclusion while others praising it as an appropriate conclusion. We recommend that you give Season 1 a shot and see if you enjoy the universe that Locke and Key creates.
Locke & Key season 3 Rating & Reviews
Rating
Locke & Key has an IMDb rating of 7.4/10 and a Rotten Tomatoes score of 74%, with an average audience rating of 66% based on the show's rating. You may anticipate that the series is watchable.
Reviews
This series is rather peculiar. The theory and framework are intriguing, but the execution is uneven. The narrative is simple and appears to be intended for children, but it contains far too many murders to be considered a children's book. It is just too childish and uninteresting for an adult audience. Additionally, it spends an excessive amount of time exploring the relationships between the children but is still too naive for adolescents.
I, therefore, have no idea who the intended audience is. The picture is beautifully shot and has potential, but the plot is chaotic, explains nothing, reveals nothing, and is tedious and confusing. In general, I feel disappointed. So much room for advancement exists!
Locke and Key Season 3 Age Rating
The program has an official age rating of TV-14. This is the television equivalent of a PG-13 film, meaning it is acceptable for adolescents. It makes sense, given that the series has always centered on teenagers, and it's nothing like Euphoria!
Other nations have distinct age ratings, but the majority are comparable to the United States. Countries such as Germany and Canada have given it a 12 rating, while the United Kingdom has given it a 15.
The primary reason for the TV-14 classification is the presence of blood and violence. We anticipate that the third and final season will contain additional fight sequences. However, there is relatively little graphic nudity or vulgarity. Except for the demons and magic surrounding the keys, the majority of this series consists of teens acting normally.
Locke and Key Season 4 Parental Guide
Based on the Age Rating, parents are in the best position to assess if their child is old enough to view a film, television program, book, video game, or television series. And if it has Blood and Gore, S*xual Content, Mature Themes, or Explicit Language, then it is unsuitable for children.
To determine whether Locke and Key season 4 are appropriate for your children, please refer to the rating mentioned above. If you have previously viewed this series, we'd appreciate it if you could provide information on parental guidance. With your support, we can give a more precise image to everyone.
Conclusion
Locke and Key season 4 has been updated in this article in accordance with our commitment to providing the most trustworthy information to our users. We hope you can find all the information you require.
Netflix will soon reveal the release dates for all upcoming Locke and Key season 4 episodes. We will write about all future developments, so remain current with our website to learn everything there is to know about your favorite television show, Locke and Key.
Frequently Asked Questions (FAQs) about Locke and Key Season 4
When Could Lock And Key Season 4 Be Released?
As a result, there is no release date for Locke and Key Season 4, as it will not occur. This might be the conclusion of the article. However, I believe Netflix should have renewed the series for one more season.
Will there be Locke and Key season 4?
There is no Locke and Key season 4. As it was previously announced that season 3 would be the last when the series was renewed for a third season.
How many seasons Locke and Key will have?
It was confirmed in April 2022 that season 3 would be the final season. The series has a total of three seasons.
How and where to watch Locke & Key season 3?
Locke & Key is an original Netflix production and is consequently exclusive to the Netflix streaming service. The complete season will be accessible beginning on August 10, 2022.
Are Locke And Key A True Story?
The Netflix show Locke and Key is based on a series of comic novels. The comics were published between 2008 and 2013, were written by Joe Hill, and illustrated by Gabriel Rodriguez. And were published between 2008 and 2013. Although the characters and plots are the same as in the comics, several aspects have been altered for the television series.
Why Is Locke And Key For Adults Only?
Locke & Key is based on a horror-themed series of comic books of the same name. Each episode includes violent moments.
How many seasons will Locke and Key have?
The television series Locke and Key Season 3 will be the final season.
What age group are Locke and Key for?
The program has an official age rating of TV-14. This is the television equivalent of a PG-13 film, meaning it is acceptable for adolescents.
Do Locke and Key have romance?
The eight-episode final season concludes the Locke family narrative. In the course of the show's 28 episodes. We've witnessed numerous love moments, some of which ended tragically and others of which left us spellbound and swooning.
How old is Bode in Locke and Key?
Bode Locke is the six-year-old son of Rendell and Nina Locke. The younger brother of Tyler and Kinsey Locke, and Duncan Locke's nephew. He is the Locke child who discovers nearly all of the Keys, as described by the house.
If you are interested, you can also read: Amazon Prime November 2022 Schedule, Holding Season 2, Hannah Kepple net worth, Coby Bell net worth, Quiet BPD, PCNOK, Dana Perino Net Worth, The Conjuring 4, Henry Cavill Style, Best Movies on Star+, Andrew Tate net worth, Jack Ryan Season 3, Riverdale Season 7, Guardians of the Galaxy Christmas Special Cast, Knock at the Cabin, Top Disturbing Movies on HBO Max, Let The Right One In, Mr. Harrigan's Phone Netflix, Alia Bhatt on Dimple Kapadia, Best Thriller Series on Netflix, Google Pixel Buds Pro, The Rings of Power: Elves, Olivia Colman Movies, The Legend of Zelda: Tears of the Kingdom, Kengan Ashura Season 3, iZombie Season 6, Knives Out 2,  Couchtuner,  Openload, The Rings of Power: Who is Theo, Wcoforever,  Andor Star Wars Cast, Vikings Season 7, Movies with Fainting Scenes, TweakDoor, Best Crime Series of the 21st Century.
Amazon Prime Release Date September 2022, The Rings of Power Villain,  Dynasty Season 6,  Gramhir,  F2Movies, Elton John and Britney Spears, Realistic Driving Games,  5movies,  MetaZoo,  SmiHub. Homewyse, Best Inspirational Movies, Saddest Movies, Black Mirror season 6, Tatiana Maslany, Who is Alicent Hightower, Baki Season 5, Thor, Love and Thunder, Best Sebastian Stan Movies, Daredevil Season 4, Best Ben Affleck Movies, Instastories, Latina Creators on Disney+, Overlord Season 5, Satanic Panic Movie, iOS 16 Beta, 6streams, 8 Nazi Hunters Movies, Streameast, Best Grail Watches, Emerald Chat, 365 Days 3, House of the Dragon, IFVOD, NFL Streaming Sites, Google TV App, Meta Launches, AniMixPlay, and Jilo Virals.