Echo 3 is a new thriller on Apple TV+ that stars Luke Evans and Michiel Huisman. It takes place in the Colombian jungle, where two soldiers must work together and use all their skills to save the life of a woman who was kidnapped.
Evans and Huisman play Prince and Bambi, two brothers-in-law who used to be in the military. They find out that their sister and wife, respectively, were kidnapped while they were in Colombia, and no one is going to help them. They have to work together and go to Colombia on their own to try to find them.
It is a story that looks at the real-life cases of people who have been hurt by war or kidnapped, but it also has a fictional element in which the soldiers Prince and Bambi become action heroes and have to deal with all kinds of complicated situations as they get deeper into their mission.
"Prince and Bambi, as soldiers, know one side of the war that is going on, but they must also put themselves in the dangerous position of going into a country where they know nothing, have no help, and don't know who they can trust to save their sister and wife. Evans says of his and Huisman's characters, "There's a very simple feeling of what you're willing to do to save someone you love and what you're willing to sacrifice."
Echo 3 and why watch the action series with Luke Evans
It's not really a war series; it's more of a drama set in a violent world that shows many real-life problems and pushes the main characters to their limits. Echo 3 isn't just about a rescue mission; it's also about a conspiracy and a war that is being fought in secret with the help of some government officials.
"The task was to make up a story that took place in the real world. We wanted to show a real story. So we talked to people who had been in similar situations, like Colombians who had been held hostage. Also, we did a lot of research on historical events. We looked into people who were in the FARC, M19, or fought against them. We wanted as many real parts as possible and put them in the story to make it more realistic, says the creator. Mark Boal talks about how real the show is.
Luke Evans, Michiel Husman, and Jessica Ann Collins, who plays the scientist who needs to be saved, talked about the history of the series in an interview.
About the stunts and action scenes
Evans remembers that one scene was especially hard for him. "For me, there is a scene that takes place in a quarry. The stuntman did it during rehearsals, but I wanted to do it. The special effects team had put explosives in the quarry, and I had to run up the hill with a rifle. Then I had to move and shoot, and I had to say my lines while running. I also got shot, and I had protection and stuff. You feel like you're underwater because you can't hear anything, so it was a day I'll never forget. It was a lot of work, so I'm glad it looks so good."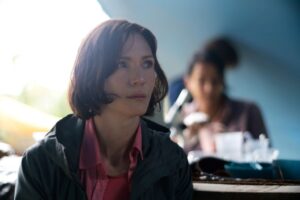 Mark Boal, for his part, said that Jessica Ann Collins played one of the hardest parts. "I don't want to take credit for what Luke did, because it was very risky, but Jessica had to climb a waterfall for 5 days straight, which was a huge challenge. It was all done with climbing ropes and her cameramen rappelling with her, so it was amazing to see him and have him ask if we needed an insurance policy. No one had ever done anything like that on that waterfall before, but we wanted action on the show, and we have some amazing ones."
About his training
"We got to Atlanta three weeks before filming. Every day we worked with a Navy Seal who taught us how to use weapons. There is training on the Appalachian Trail, where we were thrown with just a backpack and not told where we were going or how long it would take. Also, we weren't allowed to ask questions, and we had no idea how long it would last. Luke Evans says, "We did a lot of interesting training and spent a lot of time with the Elite Special Forces. They taught us how these men act and what they do."
About the real story
"People talk about how the U.S. is involved in Latin America. The U.S. media doesn't pay much attention to our neighbors, and I think that's because the story isn't very good. American power in Latin America has caused disasters and problems, so creator Mark Boal says he wanted to show how power works.
On how the characters relate to each other, Evans says, "Our characters go through a lot. We started the show with a big problem that changes how they relate to each other." "Their relationship is very deep and strong, but it all starts in a very strange way. It's not until later, when they find out that things aren't as they thought, that they realize they have to deal with more complicated problems. They also have their own problems, so it's a long journey that changes over the course of the series, where they're friends, brothers, and sometimes they can't talk to each other or work as a team. They have been through terrible things together as elite soldiers, and that is what keeps them together.
"As members of the special forces, they need to be very honest with each other, but as the series goes on, they realize that they haven't been," says Huisman. "This is affecting their relationship."
If you are interested
You can also read: Magic Mike 3, Thunderbolts, Altered Carbon Season 3, Best Gerard Butler Movies, Top 3 Places to Visit in India, Reaper 2 Trello, Hasbulla Magomedov Net Worth, The Flash season 9, Enola Holmes 2, Locke and Key Season 4, Amazon Prime November 2022 Schedule, Holding Season 2, Hannah Kepple net worth, Coby Bell net worth, Quiet BPD, PCNOK, Dana Perino Net Worth, The Conjuring 4, Henry Cavill Style, Best Movies on Star+, Andrew Tate net worth, Jack Ryan Season 3, Riverdale Season 7, Guardians of the Galaxy Christmas Special Cast, Knock at the Cabin, Top Disturbing Movies on HBO Max, Let The Right One In, Mr. Harrigan's Phone Netflix, Alia Bhatt on Dimple Kapadia,
Also, you can read
Best Thriller Series on Netflix, Google Pixel Buds Pro, The Rings of Power: Elves, Olivia Colman Movies, The Legend of Zelda: Tears of the Kingdom, Kengan Ashura Season 3, iZombie Season 6, Knives Out 2,  Couchtuner,  Openload, The Rings of Power: Who is Theo, Wcoforever,  Andor Star Wars Cast, Vikings Season 7, Movies with Fainting Scenes, TweakDoor, Best Crime Series of the 21st Century.
Amazon Prime Release Date September 2022, The Rings of Power Villain,  Dynasty Season 6,  Gramhir,  F2Movies, Elton John and Britney Spears, Realistic Driving Games,  5movies,  MetaZoo,  SmiHub. Homewyse, Best Inspirational Movies, Saddest Movies, Black Mirror season 6, Tatiana Maslany, Who is Alicent Hightower, Baki Season 5, Thor, Love and Thunder, Best Sebastian Stan Movies, Daredevil Season 4, Best Ben Affleck Movies, Instastories, Latina Creators on Disney+, Overlord Season 5, Satanic Panic Movie, iOS 16 Beta, 6streams, 8 Nazi Hunters Movies, Streameast, Best Grail Watches, Emerald Chat, 365 Days 3, House of the Dragon, IFVOD, NFL Streaming Sites, Google TV App, Meta Launches, AniMixPlay, and Jilo Virals.