Part 2 of Dune is coming out, and everything points to it being just as good as the first.
Dune, which was turned into a movie by Denis Villeneuve, broke the curse and showed that it was possible to turn a complicated, long book series into a great movie.
Dune not only did well at the box office, but it also won six Oscars for things like its special effects, music, and cinematography. With that, it got the green light for a sequel, where, according to reports, we'll learn a lot more about Chani, played by Zendaya, who becomes a major ally of Paul Atreides, played by Timothée Chalamet.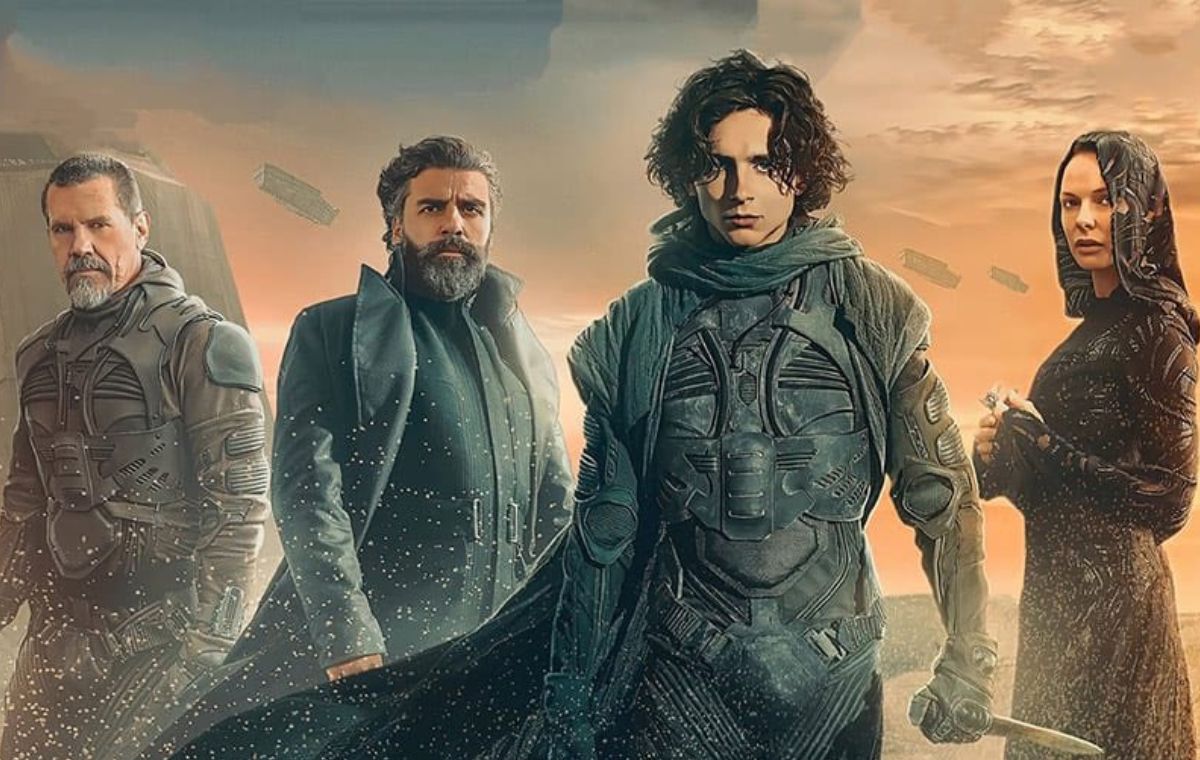 The story of Dune is told over several books, so the sequel has a lot to work with. It looks like Paul will become a leader for the Fremen and the survivors of his house, who will become the main obstacle for the emperor (who sent his family to Arrakis to get it out of the way) and the Harkonnens (the enemy family) to get more power and control over the universe.
Shortly after the first movie came out, it was announced that there would be a second one, and now we know who the new actors are, as well as other important details.
What is Dune 2 about?
There isn't an official summary, but the books give us hints about what we'll see.
Denis Villeneuve confirmed that we'll see more of Zendaya and her character. It's likely that she'll help Paul Atreides train to become the leader everyone wants him to be so that he can take on the Emperor and his enemies.
We'll also see new political alliances form, like when Paul Atreides marries a princess from another powerful family in the universe.
Dune 2 Trailer and Pictures
Even though there isn't a trailer yet, Zendaya shared the first photo that showed they were filming in the desert. This suggests that at least some of the key scenes will take us back to the world of Arrakis.
The New Characters of Dune 2
Timothée Chalamet, Zendaya, and Rebecca Ferguson are all back, but there are also some new people in the cast this time.
Princess Irulan, who is the daughter of the Emperor and who is played by Florence Pugh, catches the eye of Paul Atreides. She is a kind of historian who tells part of Paul's story in the books. She could be a key player in Atreides getting more followers and a place in the line of succession to the throne.
Austin Butler, who played Elvis, is also a new character. He plays Feyd-Rautha Harkonnen, the nephew of the Atreides' main enemy. He wants to kill Paul to get back at the Atreides and stop his family from getting the throne.
Christopher Walken will play the emperor, and Léa Seydoux will play Lady Margot. There are also rumors that we will see Paul's little sister, who is very powerful and has the skills of a Reverend Mother of the order of the Bene Gesserit.
When is Dune 2 Released?
There is no date set yet, but his movie is likely to come out sometime in 2024. Also, a show called "The Sisterhood" is being made, which will tell the stories of women who are part of the Bene Gesserit.
If you are interested
You can also read: Magic Mike 3, Thunderbolts, Altered Carbon Season 3, Best Gerard Butler Movies, Top 3 Places to Visit in India, Reaper 2 Trello, Hasbulla Magomedov Net Worth, The Flash season 9, Enola Holmes 2, Locke and Key Season 4, Amazon Prime November 2022 Schedule, Holding Season 2, Hannah Kepple net worth, Coby Bell net worth, Quiet BPD, PCNOK, Dana Perino Net Worth, The Conjuring 4, Henry Cavill Style, Best Movies on Star+, Andrew Tate net worth, Jack Ryan Season 3, Riverdale Season 7, Guardians of the Galaxy Christmas Special Cast, Knock at the Cabin, Top Disturbing Movies on HBO Max, Let The Right One In, Mr. Harrigan's Phone Netflix, Alia Bhatt on Dimple Kapadia,
Also, you can read
Best Thriller Series on Netflix, Google Pixel Buds Pro, The Rings of Power: Elves, Olivia Colman Movies, The Legend of Zelda: Tears of the Kingdom, Kengan Ashura Season 3, iZombie Season 6, Knives Out 2,  Couchtuner,  Openload, The Rings of Power: Who is Theo, Wcoforever,  Andor Star Wars Cast, Vikings Season 7, Movies with Fainting Scenes, TweakDoor, Best Crime Series of the 21st Century.
Amazon Prime Release Date September 2022, The Rings of Power Villain,  Dynasty Season 6,  Gramhir,  F2Movies, Elton John and Britney Spears, Realistic Driving Games,  5movies,  MetaZoo,  SmiHub. Homewyse, Best Inspirational Movies, Saddest Movies, Black Mirror season 6, Tatiana Maslany, Who is Alicent Hightower, Baki Season 5, Thor, Love and Thunder, Best Sebastian Stan Movies, Daredevil Season 4, Best Ben Affleck Movies, Instastories, Latina Creators on Disney+, Overlord Season 5, Satanic Panic Movie, iOS 16 Beta, 6streams, 8 Nazi Hunters Movies, Streameast, Best Grail Watches, Emerald Chat, 365 Days 3, House of the Dragon, IFVOD, NFL Streaming Sites, Google TV App, Meta Launches, AniMixPlay, and Jilo Virals.